Published: January 21, 2010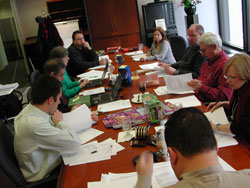 CHICAGO, IL | The Assn. of Industrial Metallizers, Coaters & Laminators held judging for its Metallized and Coated Products competition on January 21 at the offices of Paper, Film & Foil Converter (PFFC) with Steve Sedlak acting once again as awards and competition chairman.
A total of 35 entries were reviewed for technical and marketing merit with 30 competing for Product of the Year competition this year in the following categories: packaging–food; packaging–nonfood; packaging–healthcare, cosmetics & toiletries; label–retail; decorative/display; and other. Another five entries competed for sustainability merit. One final entrant is bestowed the Peter Rigney Product of the Year award that embodies, according to the judges' perspective, the best overall marketing and technical features. Announcement of the winners will take place during the association's annual winter management meeting to be held March 21–24 at Hilton Torrey Pines, La Jolla, CA.
Judges this year included Travis Funk, senior packaging engineer-PAB's for Diageo; Jeffrey T. Weber, research principal, research, development & quality for Kraft Foods; Vince DiTrolio, owner of DiTrolio Flexographic Inst.; Stan Kopecky, principal of SJK Packaging Assoc.; Mark Spaulding, editor of Converting; and hostess of the annual judging event Yolanda Simonsis, associate publisher/editor of PFFC.