Published: June 09, 2009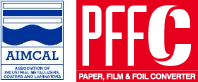 FORT MILL, SC | The Assn. of Industrial Metallizers, Coaters & Laminators still has limited room for its newest FREE webinar on "Static Control in Converting," led by industry static expert and PFFC columnist Kelly Robinson of Electostatic Answers. Reserve your webinar seat at https://www1.gotomeeting.com/register/398790089 . The event is scheduled for Friday, June 12 at 2—3 P.M. EDT, so tune in to find answers to the following four key questions:
How is static generated?
How is static measured?
How is static controlled?
How is static specified?
Sources of static charging will be discussed, including (1) tribocharging during the converting process, and (2) charge on incoming material delivered by your supplier. Determine how to pinpoint the source of charging so that the appropriate static control countermeasures can be taken. Countermeasures include:
Machine maintenance, such as cleaning rollers and replacing bearings or belts.
Process adjustments including lowering tensions and nip roller engagement pressures.
Working with your supplier to reduce static on incoming material.
Installing static dissipaters.
Many different static dissipaters are available, and a summary will be provided of the advantages and disadvantages of dissipaters ranging from static brushes to grid controlled corona chargers.
The webinar will conclude with information on how to specify static. Material that you ship should satisfy your customer. And, material that you accept from your supplier should meet your needs for good static performance. Specifying static is the key. You and your customer should agree on a static specification so that you know what performance is required of your process. And, your supplier should deliver material that satisfies your specifications for incoming material.
Contact AIMCAL at 803-802-7820 for additional information.