Published: March 01, 2004, By Yolanda Simonsis, Associate Publisher/Editor
Produce [Aisle] Results
In the Label: Retail category, PROMA Technologies, Franklin, MA, wins both marketing and technical awards. PROMA merited the marketing award for a pressure-sensitive holographic label applied to polystyrene containers for Santa Sweets brand grape tomatoes from Ag-Mart Produce, Plant City, FL. Substrate is from Connemara Converting, Bensenville, IL, with metallization provided by PROMA. Spinnaker Coating, Troy, OH, supplies the p-s coated label construction to Consolidated Label, Longwood, FL, for flexo printing in five colors plus UV varnish, die-cutting, and contract packaging.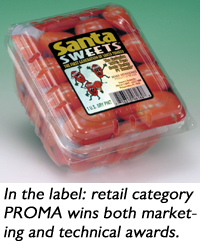 Ag-Mart boasts it's the first time for a holographic label to enter the produce aisle and to generate so much enthusiasm. Ag-Mart executive VP Robert Meade explains HoloPRISM holographic paper was a lower cost alternative to lenticular technology that still created eye-catching movement and shimmer. Judges noted the product brought metallization to a new market segment and created for consumers a memorable identification for repeat purchasing.
History in the Making
The second award for PROMA in the Label: Retail category is for Molson's Export brand, featuring four holographic labels commemorating the centennial of the famous beer maker from label graphics during the years 1903, 1955, 1962, and 2003.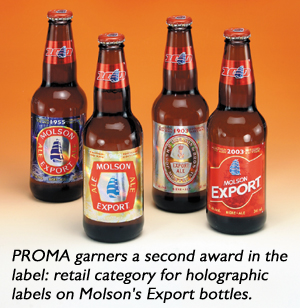 Adapting the graphics to take advantage of the effect of HoloPRISM standard pattern #752, the designs (provided by Pigeon*Branding+Design, Oakville, ON, Canada) generate a contemporary feel to historic artwork. Construction comprises 50# partial wet-strength paper with a water-based top coating. Inland Printing, LaCrosse, WI, prints, coats, embosses, and supplies the labels in mixed bundles to increase the probability for each 12-pack to include all four designs. Judges also noted the smooth bubble- and wrinkle-free appearance of the label that still permitted easy removal during the cleaning process, a mandate of Canadian recyclability requirements.
Ringer Holographic Cover
TV Guide (Radnor, PA) produces another winning holographic cover—this time featuring characters from Lord of the Rings—confirming this technique builds sales.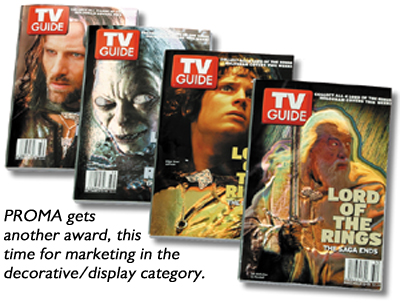 Graduating to more sophisticated graphics, this collectible generation of covers garnered another marketing award for PROMA in the Decorative/Display category. First steps in producing the metallized holographic paper involved embossing lacquer-coated HoloPRISM paper with custom holographic images designed to enhance mystical character qualities. Metallization followed with an application of printing primer. Rolls were then slit, sheeted, and printed to register with the holographic images. Opaque white ink, print graphics, and the holographic layer work together to create unique effects.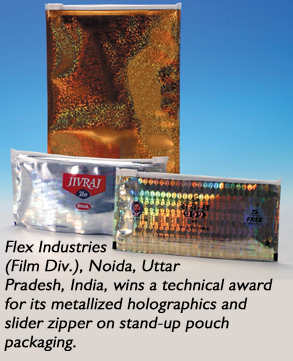 Stand-Up Goes Mainstream
The stand-up pouch gets a facelift with metallized holographics and a slider zipper from Flex Industries (Film Div.), Noida, Uttar Pradesh, India, deeming a technical award in the Decorative/Display category. Flex Industries is banking these stand-up pouches will make even greater inroads for use by adding a reclosable feature.
Other value-added features include shelf appeal, tamper-evidence, and anti-counterfeiting potential. Flex Industries multitasks with this application, serving as substrate supplier, designer, metallizer, and converter. Structure comprises biaxially oriented polyethylene terephthalate/polyethylene. Transparent inks complement the holographic effect. First-time pouch use requires the consumer to break a tamper-evident film diaphragm to access the product. Special attention to detail earned the company high marks for the absence of distortion in the gusset area despite sealing through multiple material layers.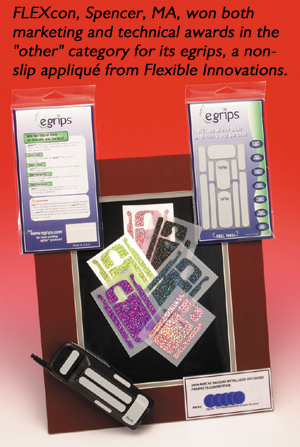 Gripping Power
In the Other category, FLEXcon, Spencer, MA, won both marketing and technical awards for egrips, a nonslip appliqué from Flexible Innovations, Fort Worth, TX. Meant to prevent cell phones and other electronic devices from slipping out of hands or off surfaces, this product creates a new use for metallization.
The structure consists of a gloss-top-coated clear, 1-mil polyester overlaminate, supplied by FLEXcon, using base substrate from Dunmore, Newtown, PA. Flexible Innovations digitally prints the polyester on demand, employing a digital offset press from H.P. Indigo, San Jose, CA. The construction is laminated to a 2-mil tinted holographic or metallized film, with Spectratek, Los Angeles, CA, performing metallization. The laminate is coated with a permanent/removable adhesive and backed with a 3-mil matte polyester release liner. A clear elastomer overlaminate follows to create a decorative, nonslip surface. The multilayer structure comes in various colors and holographic patterns and is custom laser cut for cell phones, laptops, CD players, etc. When users tire of a pattern, they can replace it with a new one.
---
Hosted by PFFC, the judges included Panos Kinigakis, CPP, fellow, Kraft Foods; Dean Lindsay, principal, dean LINDSAY design; Yolanda Simsonsis, associate publisher/editor, PFFC; Mark Spaulding, editor-in-chief, Converting magazine; Bob Swientek, editor-in-chief, BrandPackaging magazine; and AIMCAL Awards Committee chair Steve Sedlak, sales manager Wacker Ceramics, Wacker Chemical, Adrian, MI. More information is available from AIMCAL at aimcal.org.
---