Published: February 18, 2004, By PRESS RELEASE
ST. LOUIS, MO, USA—UK-based Valco Printers is a family label-printing business that, a few years ago, invested in a Mark Andy 10 in. Scout. Since its arrival at the now Teesside, Middlesbrough-located operation, Valco managing director Roger Sutton says the press has attracted more process color work as well as improved efficiency and lowered waste levels.
Movin' On Up
Since moving from London to Teesside—located in the North East part of the UK, approximately 50 minutes from Newcastle and York—Valco says it has doubled its factory size, retained its customers, and established a new platform for the business. Part of this success, according to Sutton, is due to the Mark Andy Scout. "For the best combination of value and quality on a press that's easy to make ready and run, we rated the Mark Andy Scout well above its competitors," he reports.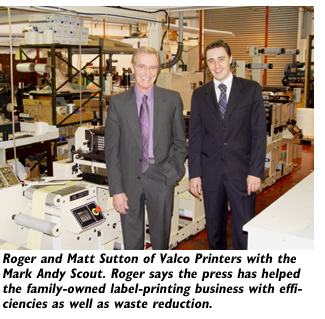 Valco's 10" Scout has six flexo print stations, with UV curing equipment on the final unit. According to Mark Andy, this fits well with the company's work pattern, which demands either four process colors and two specials, or four, plus one, and a varnish. "We aim to be innovative rather than chase the 'me too' volume work," son Matt Sutton explains. "So our future investments will largely be customer driven. This could mean full UV or turner bars for delam/relam work," he adds.
Roger Sutton also praises Mark Andy's UK technical support. "With lower on-costs , such as tooling, parts, and maintenance, the Scout has already covered itself, even with the learning curve to consider," states the elder Sutton.
Valco supplies labels to the toiletries and cosmetics, beverages, and medical field markets, as well as labels for industry, transport, and all-weather requirements. Visit Valco at valcoprinters.co.uk. Learn more about Mark Andy's packaging and label production equipment at markandy.com.
---