Published: September 19, 2023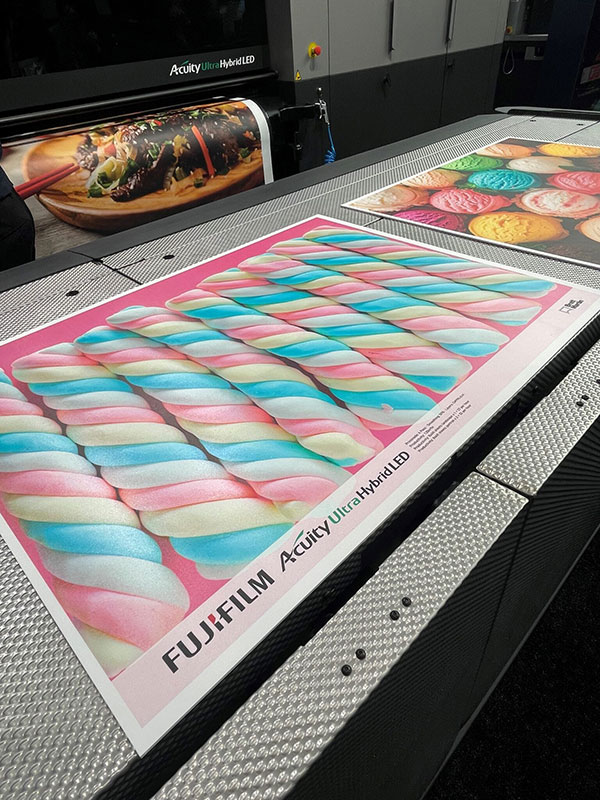 Brett Martin will partner with Fujifilm at The Print Show 2023 (Stand E50) September 19-21, 2023, NEC Birmingham, UK to demonstrate its growing range of quality substrates for sign and display applications. Fujifilm's 240m2 stand will be the second largest single exhibitor stand in the history of the exhibition.
Fujifilm will be showcasing a range of solutions including two models from its renowned Acuity wide format range: the new Acuity Prime Hybrid, launched at Fespa earlier this year, and the Acuity Prime flatbed. As an official Brett Martin Approved Partner, Fujifilm will be using Brett Martin's 3mm Foamalux Light material to showcase the capabilities of both machines to their full potential.
Foamalux Light is specifically formulated for digital printing. Its bright white colour combined with a flat even surface optimises print quality and clarity for outstanding results. Foamalux Light can be easily cut, routered and finished – ideal for all types of signage and displays.
At The Print Show, the machines will print a range of applications with Brett Martin's materials including signage, flat graphics, backlit applications and a range of specialty projects, showcasing a variety of what can be achieved with the substrates.
Simona Firth, Semi-finished Product Manager, Brett Martin explained: "The Print Show provides the ideal opportunity for us to demonstrate our successful collaborations with all of our Approved Partners, including Fujifilm. Combining high quality print with a premium substrate, we can showcase the extraordinary possibilities of print and the role that quality substrates play in achieving outstanding results."
Shaun Holdom, Marketing Manager, High End Products, Fujifilm Wide Format Inkjet Systems added: "In order to showcase any good machine sufficiently, the choice of material to print on is vital and the substrate must be of high and consistent quality. We chose to partner with Brett Martin earlier this year and, after a very successful collaboration at FESPA, in Munich, we're confident that Brett Martin's high quality media will help us to make just as good an impression at The Print Show. In addition, sustainability is a core focus for Brett Martin, and this aligns perfectly with our own values as a company."
Brett Martin representatives will be on hand to discuss any queries at the Fujifilm stand.
To find out more about Brett Martin's products, visit: www.brettmartin.com.