Published: May 11, 2023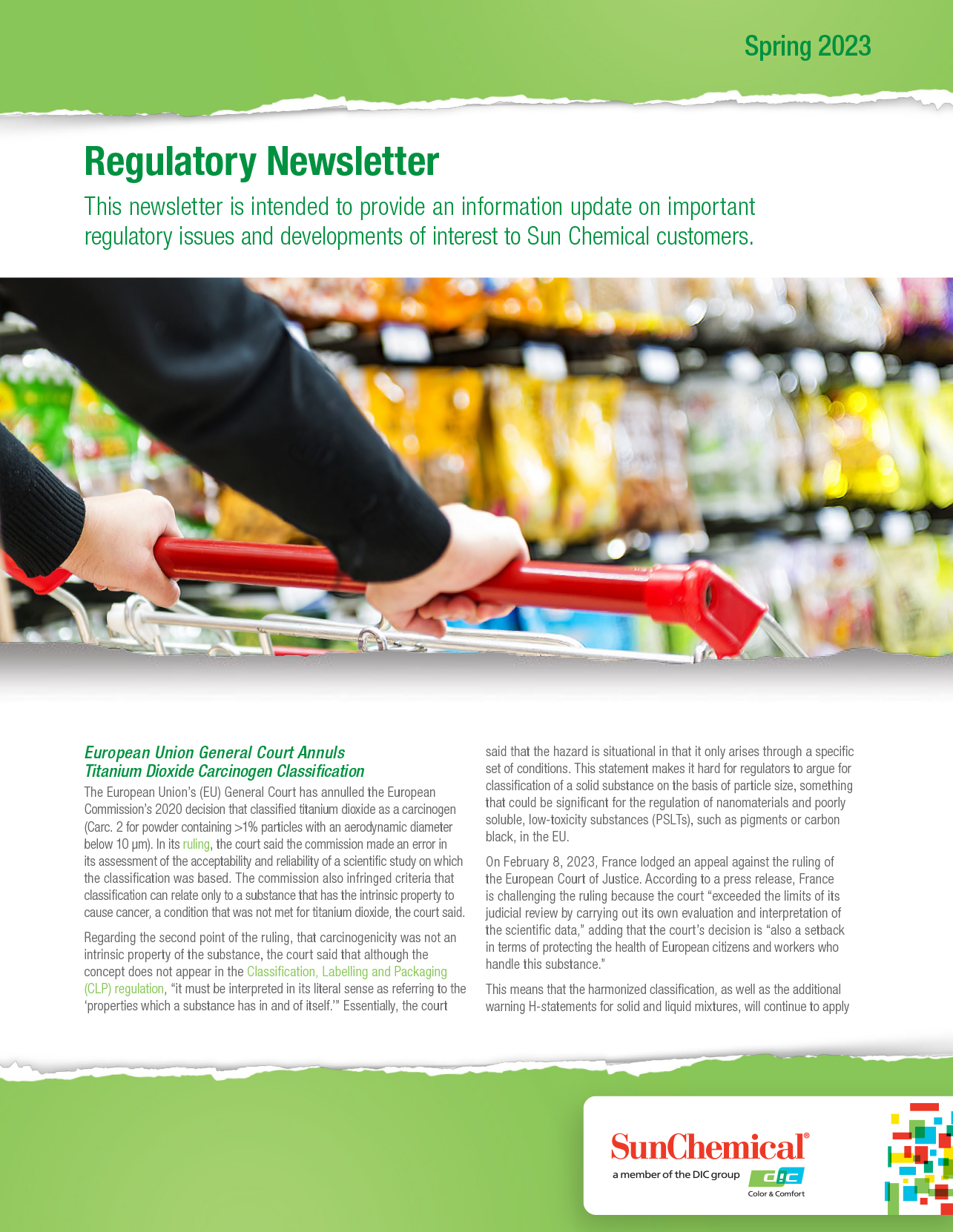 Sun Chemical has released its Spring 2023 Regulatory Newsletter for customers which can be downloaded at www.sunchemical.com/regulatory-newsletters.
"Sun Chemical is a recognized global voice and leader in guiding customers with the information they need to comply with all the latest regulatory updates," said Gary Andrzejewski, Corporate Vice President, Environmental Affairs, Sun Chemical. "As global regulations continue to evolve and change, we're pleased to offer our regulatory newsletters to our customers as a resource to help them navigate these global and regional regulatory updates."
The latest newsletter features details about the European Union General Court's ruling about titanium dioxide and how it will affect the Classification, Labeling and Packaging (CLP) regulation. The report also provides a wide variety of updates about food-contact materials on packaging, including inks, coatings and adhesives.
Here's a list of some of the latest regulatory updates about food-contact materials featured in the newsletter:
-Opinions about cobalt and restrictions on per- and poly-fluoroalkyl substances under EU REACH and the Clean Water Act in the United States
-Updated reporting requirements for manufacturers of products containing "priority control substances" in South Korea's K-Reach Amendment
-California's intention to list glycidyl methacrylate as a carcinogen under Proposition 65
-The first recommended changes to the U.S. cosmetics regulations since the passage of the Food, Drug and Cosmetic Act of 1938
-Toy migration limits in Israel
-The addition of 42 new compounds to China's Inventory of Existing Chemical Substances
-Updated guidelines by Environment and Climate Change Canada to help companies adhere to Canada's New Substances Notification regulations for chemicals and polymers
-New restrictions of mineral oil-containing substances in Article 112 of the French Decree No. 2020-1725 on the "Fight Against Waste and the Circular Economy"
-Possible amendments to Brazil's National Health Surveillance Agency (ANVISA) Resolution RDC 20/2007 and RDC 498/2021
As a global leader in sustainable, eco-efficient business practices, Sun Chemical strives to produce bio-renewable, recyclable and compostable products to help its customers meet regulations and reach sustainability goals. Sun Chemical's annual Corporate Sustainability Report focuses on its commitment to new sustainable products and services to meet customer demand.
For more information, visit www.sunchemical.com.