Published: May 04, 2023
Temera, a Beontag company and leader in B2B Web 3.0 solutions for fashion and luxury brands, has partnered with MERMEC Engineering, part of Angel Holding, to launch t!Upcycling.
The creative upcycling project kicks off a technology partnership announced between the two innovative companies to improve circular economy efforts.
Temera, part of the multinational label and IoT solutions provider Beontag, and a leader in the development of IoT solutions for traceability and digitization in fashion and luxury announces a strategic partnership with MERMEC Engineering, part of Angel Holding specializing in delivering integrated solutions based on cutting-edge technologies to the rail, aerospace, aviation, and digital mechatronics sectors.
The solution, t!Upcycling, will play a multifaceted role in improving the circular economy efforts of fashion and luxury brands through the combination of innovative technology solutions, using AI, machine vision, and digital NFC tags. This creative upcycling solution also offers a proactive opportunity for businesses that want to get ahead of upcoming EU laws that will prevent the destruction of surplus products and the qualitative perception of the final product.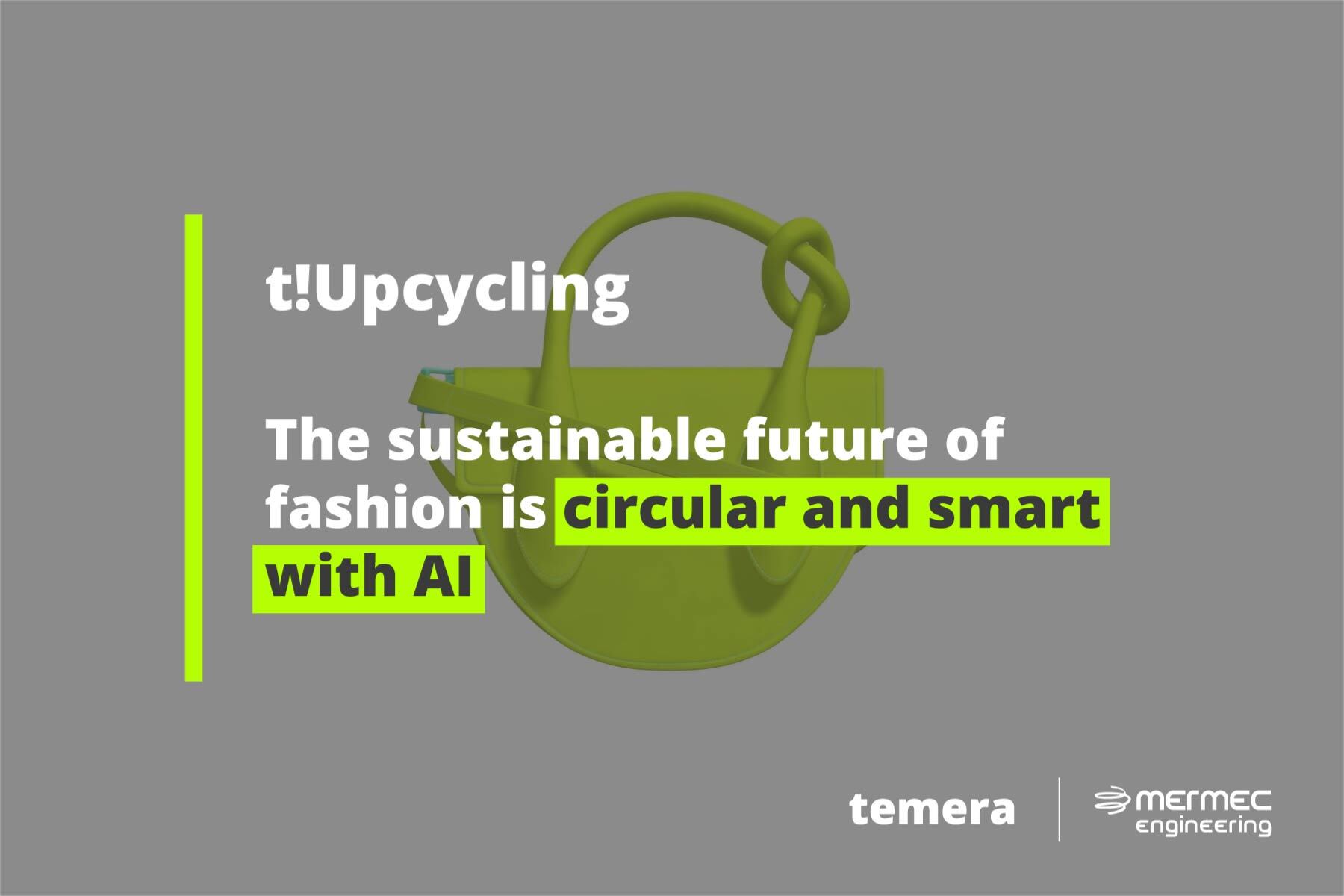 Detection and Recognition using Machine Vision
To date, just a minority of brands are capable of upcycling their product. Operators who specialize in this area must resort to "visual" classifications of products, identifying one piece at a time. Now, the t!Upcycling solution, designed by Temera and technologically implemented by MERMEC Engineering, will automate part of this process, using data provided by companies to optimize logistics, thus increasing the efficiency of the entire process.
Through Multi-Modal IDentification (MMID), which involves the integrated use of RFID and machine vision technologies, the recognition of any object in any case, even those without RFID tags, is ensured. This process of "machine vision" uses a camera in a controlled light environment and an RFID reader in the Stock Keeping Unit (SKU) to detect and recognize the item to be upcycled. t!Upcycling can therefore provide specialised operators with the correct information for the disposal and disassembly of the specific product, allowing the operator to re-introduce it into the production chain of useful materials.
"The goal," said Francesco Pieri, Temera's CEO, "is to help brands certify the products they recycle. By combining multiple technologies and capabilities in this one solution, we can transform and extend the life of these items and their raw materials – at the same time automating the recognition process using AI resources, and bypassing the current manual recognition of products for disposal. We specialise in the luxury and fashion world, therefore our focus is to target fashion companies.
"The pilot project has been carried out on bags and shoes and, in the future, will be applied to other product classes as well. We are particularly proud of this partnership with MERMEC Engineering, a provider of high-quality technology with their Italian excellence reputation."
Furthermore, Ricardo Lobo, CEO of Beontag commented: "Beontag operates across the globe with a mission to solve the most challenging problems faced by our clients. t!Upcycling is a great example of how we apply this mindset of innovation, collaboration, and sustainability to significantly improve an often-forgotten aspect of the lifecycle of a luxury product.
I want to congratulate our dedicated colleagues in Temera, and new partners with MERMEC Engineering, for upholding this commitment to deliver solutions with a truly beneficial impact to our clients and their customers, while also reducing the negative impact of industry on our planet. We are excited to see what more can come from the collaboration."
Finally, Niccolò Chierroni, CEO of MERMEC Engineering added, "We are extremely pleased with this partnership. Our skills have been developed and refined in strategic and safety-critical sectors, both nationally and internationally, and can finally be made available to a company of excellence like Temera through our t!Upcycling solution. This is just the beginning of our collaborative journey that aims to contribute to the promotion of a circular and sustainable economy through the application of our proprietary Artificial Intelligence and Computer Vision solutions in the fashion and luxury industry, with the objective of generating immediate tangible benefits for end customers and the environment all around."
To learn more, visit: https://temera.it/en or https://beontag.com/.