Published: April 20, 2023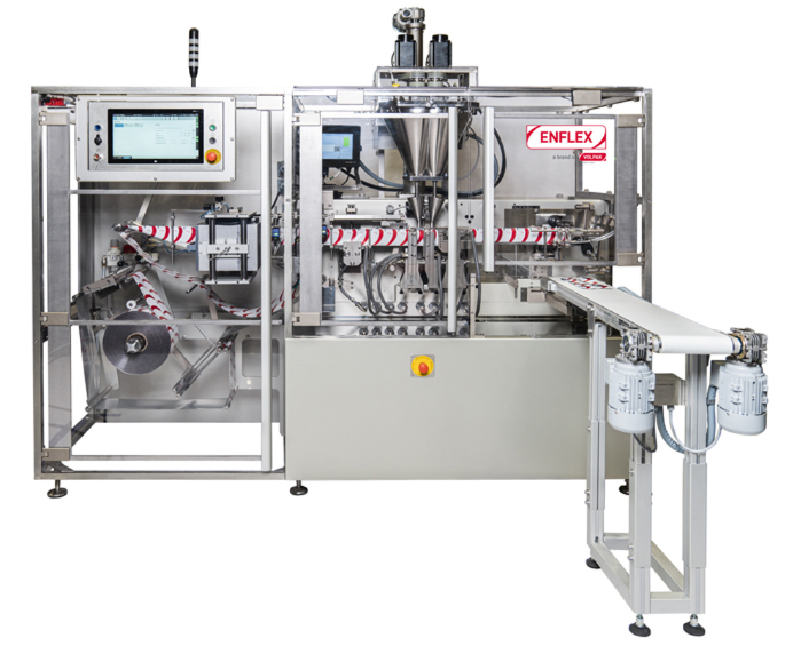 The new line for Pharma sachets presented by Coesia companies Hapa and Volpak (through Enflex, the Coesia Pharma & Healthcare brand) is one of the key innovations the Group will be presenting at interpack 2023 (Hall 6, Booth D31-D57) under the heading GREENMATION. GREENMATION is Coesia's response to the current trend prompted by the consumer demands towards reusable and recyclable packaging solutions, whilst manufacturers face labor shortages and production cost increases.
"In this complex situation, Coesia believes that the answer to this profitability-threatening challenge lies in supporting a revolution in production which is capable of combining the principles of automation and sustainability in the industries of Food & Beverage, Pharma & Personal Care, and Cross-industry Automation," said Alessandro Parimbelli, Coesia Chief Executive Officer.
The Coesia booth will be structured into three areas (Food & Beverage, Pharma & Personal Care, and Cross-industry Automation) where technicians and experts will introduce you to the latest solutions presented by the Group companies ACMA, Atlantic Zeiser, CITUS KALIX, EMMECI, FlexLink, G.D, GF, HAPA, NORDEN, R.A Jones, and VOLPAK.
The line that Hapa and Volpak (through Enflex, the Coesia Pharma & Healthcare brand) will show for the first time at interpack 2023 integrates a Hapa 382 Hybrid printer and an Enflex PH-11 sachet machine, and it is designed to produce fully compliant Pharma pouches with an extremely agile process. Starting from a blank or standard foil reel, Hybrid inline Printing combines Flexo and Digital Printing technologies to ensure consistency of batch-specific printing, including variable data and coding.
It also simplifies logistics and erases the uncertainties tied to the pre-printed foil reel supply chain. Fully compliant with 21 CFR part 11, the line is a perfect match for pharmaceutical environments and products. Thanks to its outstanding flexibility, the system allows for the management of small batches, resulting in fast delivery to the market and solving the issues encountered with low volumes and multi-market launches. This line is particularly interesting for pharmaceutical companies that produce flat-pouched products like powders, liquids, or high-density liquids and pills, as well as medical devices, wipes and swab sticks.
Technology-leading System Components
Customers benefit from having only one OEM partner in the Coesia Group for a solution that is already fully integrated and therefore standardized. This eliminates the need for time-consuming harmonization of technologies from different suppliers. At the same time, customers can take advantage of system components that are leading in their field in terms of technology.
For example, the Hapa printer uses a new, fully integrated, pre-validated package comprising printing and camera modules sharing the same end-to-end PDF workflow. Thus, the time required for set-up and validation is reduced significantly. The line is also equipped with OptiMate, the Coesia Digital easy-to-operate HMI designed to bring real clarity on the machine state and reducing the need for operators training. If required, other Coesia companies can supply additional transfer conveyors, cartoners and palletizers, or other end-of-line solutions also adapted to the new pouch line.
"Through the integration of a printing solution with a flat pouch machine infinite product variability can be addressed by customizing a single blank reel right during the product packing, with a simple click", explained Hapa's sales director Steve Manning. "Solving the issues typically associated with small batch production and multi-market launches, this compact line simplifies operations and logistics of complex customer projects saving time and material."
Since only the material that is actually needed is printed inline, the cost of storing and handling many different pre-printed film variants is reduced. Resources are also conserved, thus promoting sustainable production because the amount of waste is minimized.