Published: March 22, 2023
Empire ensures consistent quality throughout the production of its POP products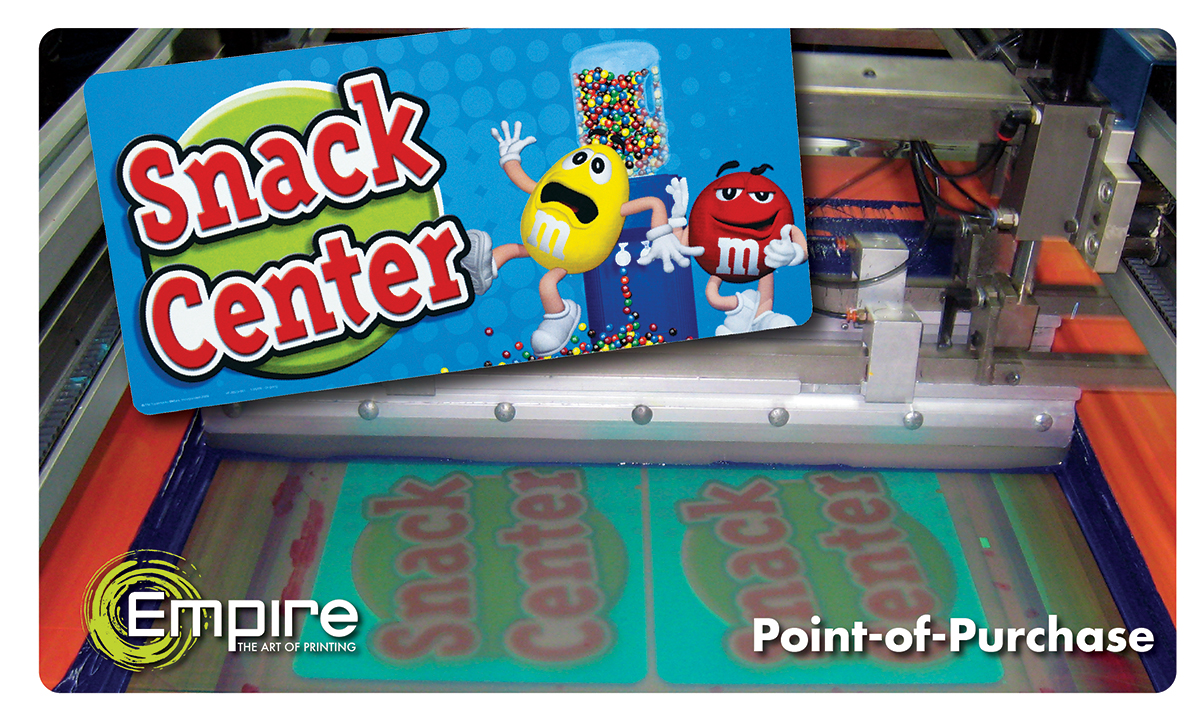 Empire Screen Printing, a leading manufacturer of screen-printed products, creates eye-catching point-of-purchase (POP) products that grab customers' attention at the critical moment when deciding whether or not to purchase a product. Empire's POP products include hang tags, static clings, shelf strips, floor graphics, banners, end caps, and more to enhance the customer's product lines.
With a quality management system that performs to ISO 9001:2015 standards and a company philosophy of using lean principles, Empire ensures consistent quality throughout the production of its POP products. Empire is a custom print shop with several unique workflow options to maximize production efficiency.
Empire can combine print methods with various printing and finishing equipment, from full-color images to brand identity spot colors. Integrating digital variable data with ultra-durable screen printing or adding specialty processes, such as doming and embossing, makes an impression on your brand, giving your POP products the attention they deserve.
With 60-plus years in the industry, Empire has built strong partnerships with suppliers. These relationships help maximize raw material purchasing power with the ability to convert stock in-house, keeping costs down and passing savings onto the customers.
A pioneer of UV LED ink curing technology for screen printing, Empire provides a complete source for customers' printing needs. Empire offers full-service solutions in its 150,000-square-foot facility, including pre-press, numerous printing capabilities, laminating, die-cutting, doming, assembly, inspection, kitting, and packaging. Empire also makes screens, manufactures dies, and even builds printing machinery. Creating, improving, and fixing problems as it happens is essential to improving the process and maintaining on-time delivery and competitive pricing while producing a top-notch product.
Empire is a company with deep roots in Wisconsin with a record of sustainable and innovative approaches to printing. Empire won Wisconsin Family Business of the Year multiple times and has been nominated for Wisconsin manufacturer of the year. Empire has been a Wisconsin Green Tier 1 recognized since 2013 and is a Wisconsin Sustainable Business Council member. Among the trades, Empire is a long-standing PRINTING United Alliance member who has received its Sustainable Recognition Award for the past seven years.
Empire's POP products are printed to perfection, with a long history of being a top-quality supplier of printed products for the retail, C-stores, and food and beverage markets.
For more information, visit www.empirescreen.com or call 608-783-3301.