Published: March 02, 2023
"Syringe-Closure-Wrap" security label provides clear first-opening indication, and offers value-added functions and features.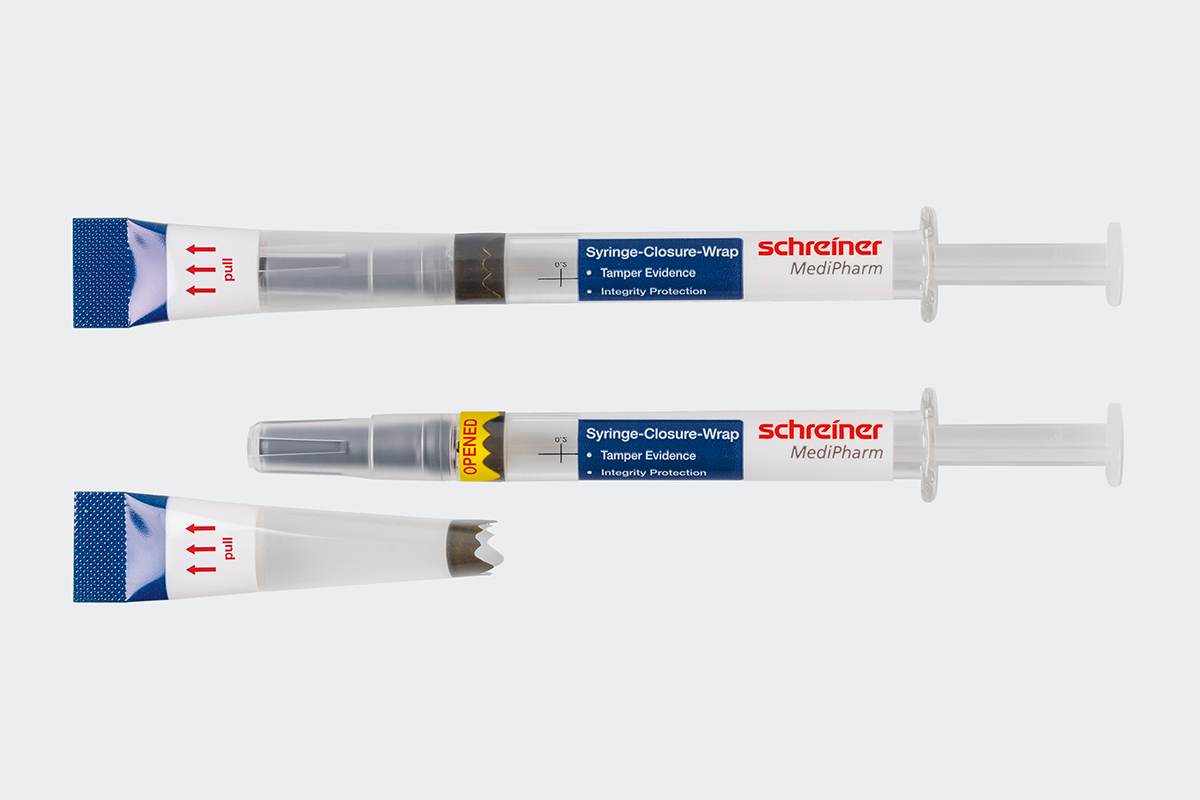 Schreiner MediPharm, a Germany-based global provider of innovative functional label solutions for the healthcare industry, presented a well-received security label for syringes at Pharmapack Paris in early February. Met with ample interest among eventgoers, the company's Syringe-Closure-Wrap is a multifunctional label for pre-filled syringes that provides clear first-opening indication, enabling the detection of previous use, tampering or counterfeiting attempts.
Prefilled syringes require special security solutions to reliably protect both the active ingredients and the syringe. Syringe-Closure-Wrap features an innovative design: The label wraps around the entire cap and syringe barrel like a kind of second skin. This film wrap is sealed at the top, securing the integrity of the syringe until injection. Opening the label activates a first-opening indication feature, with special security die-cuts resulting in the label's partial destruction, allowing users to immediately notice its prior opening. For healthcare staff, this makes using the label easy, intuitive, and safe.
By design, Syringe-Closure-Wrap is unique in protecting the integrity of the syringe while offering options for additional protective functions and features. For example, for even higher product and counterfeiting protection, overt, covert, or digital authentication features can be added. In addition, an RFID chip can be integrated for smart applications.
Syringe-Closure-Wrap's spacious label area offers ample room for both customized branding and product information. The system also enables numerous optional functionalities to meet product or syringe material-specific needs, such as UV and light protection, migration barrier or other barrier functions.
Syringe-Closure-Wrap can be applied to syringes in conventional dispensing processes in pharmaceutical manufacturing operations. The security label is sealed using an ultrasonic welding process without heat, making it suitable even for syringes containing sensitive active ingredients. In addition, the solution is adaptable to a wide range of syringes utilizing either staked-in needles or Luer-Lock.
Syringe-Closure-Wrap also brings the potential for overall materials reduction. Since the label wraps around both the syringe barrel and the cap, it protects the integrity of the prefilled syringe on the unit level. As a result, it is possible to either replace a blister pack or to remove it for storage purposes. This saves space during storage and transportation while conserving resources and benefiting the environment.
For more information, call 845-848-9000, e-mail This email address is being protected from spambots. You need JavaScript enabled to view it. or visit our website at www.schreiner-medipharm.com.