Published: October 06, 2022
SUN Automation Group (SUN), a global industry leader of innovative corrugated solutions for feeding, printing and converting, appeared at Corrugated Week 2022 in San Antonio, Texas. With over 130 expected exhibitors, Corrugated Week will showcase the latest developments in corrugated technology.
This year, SUN featured its breadth of experience and strategic global partnerships in the Boxmaker's Guide to the Corrugated Universe. Designed to help boxmakers navigate the complex and expansive universe of corrugated packaging, SUN offers the experience, equipment, service and technology to provide the right solution for your operation and accommodate even the most unique needs.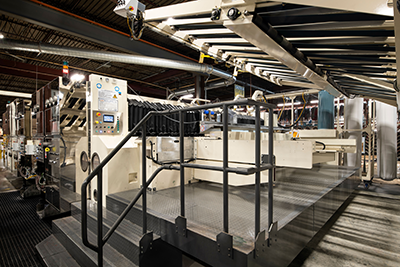 "Part of catering to a variety of corrugated board operations is curating strategic international partnerships with other leaders in the industry," Brian Kentopp, Vice President of Sales said. "This approach allows us to pinpoint and provide our customers with the solution that is right for them, and we look forward to demonstrating how our expanded knowledge, experience, and suite of solutions can serve the corrugated community."
SUN is proud to maintain key partnerships to provide solutions for increasing production, efficiency, and profitability. When Corrugated Week attendees visited SUN's booth this year, they had the opportunity to meet and learn more about these strategic partners.
Latitude Machinery Group (LMC)

Since August 2019, SUN Automation Group has been the exclusive representative for Latitude Machinery Corp. (LMC) in North and Central America. As a world-class manufacturer of Rotary Die Cutters and Flexo Folder Gluers and with over 100 machine installations in North America, LMC has an outstanding reputation for reliability and throughput.
PARA Srl Machinery and Material Handling for Corrugated Board

As a globally integrated Italian material handling company and partner to SUN since 2021, PARA boasts a vast variety of material handling solutions for the corrugated industry with over 15,000 products installed world-wide. PARA's extensive product range includes pre-feeders, palletizers, RDC stackers, bundle breakers, pallet inserters, vertical storage solutions, paper mill roll transports and unit conveyor systems.
Highcon

SUN and Highcon have been cultivating a growing relationship since 2021. Highcon represents the digital arm of corrugated converting solutions, bringing a patented digital cutting and creasing process for post print processes in the folding carton and corrugated carton industry.
Helios

Helios, the machine learning and IIoT platform from SUN, offers a Software as a Service solution which empowers box plant leadership to make more efficient and informed decisions around when to schedule downtime and order parts to prevent machine failure.
"Continually growing our strategic partnerships is an integral part of our business and allows us to provide innovative solutions to meet the evolving and complex needs of our corrugated customers," says Greg Jones, Executive Vice President for SUN. "By having our partners join us at Corrugated Week this year, we'll really be able to bring to life the realm of customizable offerings SUN can deliver."
For additional information, visit www.sunautomation.com.