Published: October 03, 2022
Signode, the leading global manufacturer of a broad range of automated packaging equipment, tools, consumables, packaging automation and warehouse automation solutions, recently highlighted industry-first technologies at Corrugated Week 2022 in San Antonio.
"To meet increasing demand, box makers are looking to increase capacity while maintaining high-quality standards," said Mike Stein, VP Marketing and Product Management, Signode. "As they continue to invest in increased throughput, they are increasingly looking for high speed bundling and in-line redundancy features that enable auto strap changes and easy-to-program bundle recipes that can be achieved in seconds."
Technical and service professionals demonstrated the operational ease, productivity gains and ROI implications of the organization's equipment, technology and consumables portfolio.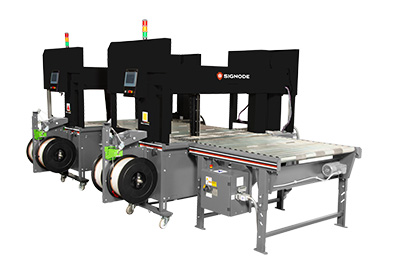 Select highlights include:
GCU-3 corrugated unitizer
The GCU-3 compresses and straps corrugated loads utilizing a modular head design for easy operation and maintenance. Equipped with up to six modular heads, a first in the corrugated industry, the GCU-3 offers enhanced flexibility with the most strap placement options available today and provides reliability and redundancy for maximum throughput.
Other industry firsts include the sensitive compression and variable head tension capabilities. The GCU-3's conveyor section is isolated on four load cells, resulting in highly accurate and repeatable platen compression levels for varying loads. This, coupled with variable head tension, delivers consistency, reduces downtime, optimizes throughput, helps improve package integrity and minimizes product damage.
The GCU-3 features compact strap dispensers with a new space-saving footprint and quick-change coils to likewise contribute to decreased downtime and increased throughput to maximize production lines. The GCU-3 also uses a larger interactive HMI control panel for easier operation, maintenance and self-diagnostics for advanced troubleshooting and corrective actions that operators are be able to implement swiftly and simply.
SIG-VCS Tandem automatic corrugated strapping and squaring bundler
Combining the power of two squaring bundlers connected with dual-zone conveyors to meet the extreme demands of modern flexo folder gluers (FFGs), this unique system is designed for operating after bundle breakers and speeds of up to 36 bundles per minute.
Designed for corrugators and box manufacturers looking for high-speed bundling or in-line redundancy features, the new system features dual coils and auto strap changes. New bundle set ups can be automatically taught in less than 30 seconds, via ethernet connection to most newer FFGs.
The SIG-VCS Tandem uses bundle diversion technology that sends all bundles to the active bundler such as during an automatic coil change or while performing a strap refeed. Once the inactive bundler automatically comes back online the workload is again shared by both bundlers.
Since its introduction into the North American market, more than 200 SIG-VCS bundlers have been specified and are currently in productive operation. The average install time, including operator training, is about three-four days.
SIG-C
This bundling solution is designed for flexo-folder corrugated products and more. The SIG-C features fast bundle size set up and a speed of up to 32 bundles per minute. The SIG series of machines have the lowest total cost of ownership. This model is equipped with a patented low tension strap ejector to prevent issues when operating in low strap tension mode.

The SIG-C has a robust design and low maintenance simplicity. All metal strap chute with minimal wear parts. Automatic strap loading and refeed technology for ultimate performance and continuous strapping.
"We continue to invest in the success of our corrugated clients," said Stein. "As a global leader, we are committed to develop exciting technology with the engineering, reliability services, and technical support that our partners rely on."
More information is available at www.signode.com.