Published: September 21, 2022
by: Nikola Juhasz , Global Technical Director, Sustainability, Sun Chemical
Serious environmental issues and growing climate change concerns are resulting in an increased focus on sustainable packaging.
According to the Environmental Protection Agency, 82.2 million tons of packaging waste was produced in 2018 with 30.4 million tons of that going to landfills. Of special concern is plastic waste which only has recycling rates in 2021 of five to six percent — or about two million tons, according to the World Economic Forum.
To address this issue, major brand owners have joined various regional plastics pacts around the world, including the US Plastics Pact, and made public commitments to, among other things, increase the rate of recycling and recycled material use in their packaging by 2025.
Achieving these packaging sustainability goals occurs when organizations across the entire value chain align their sustainability goals. Partnerships across the supply chain and with trade organizations that share similar sustainability values to deliver bio-renewability, compostability and recyclability, will help the packaging industry move towards reducing waste and becoming a circular economy.
As organizations look for ways to reduce global carbon footprints, they should consider how to incorporate sustainable best practices throughout their operations, products and industry collaborations. Focus on a "5R" framework – reuse, reduce, recycle, renew and redesign – can help guide sustainable best practices and assist brands as they navigate the heightened environmental landscape.
Sustainable Growth with the "5R's"
As brands and their packaging converter partners take steps to reduce their carbon footprints, supplier partners are helping brands and converters achieve their sustainability goals through innovative product technologies, while at the same time advancing internal sustainability programs.
Suppliers are challenging themselves to look for ways to improve their internal processes by monitoring key metrics, such as energy and water usage — actions that are aligned with many of the United Nations' 2030 Agenda for Sustainable Development goals.
In terms of innovation, certain inks, coatings and adhesives can be important enablers of a sustainable package that contributes to the overall design, functional integrity and performance of the package. These components can determine whether a package is recyclable, bio-renewable, and/or compostable.
In a 5R framework, reuse refers to products designed to contain post-consumer recycled materials, or with protective coatings and resistant inks that offer the durability needed for reusable articles or packaging. Reduce is about enabling overall packaging lightweighting, through protective and barrier coatings, as well as barrier adhesives technologies. Reduce can also refer to minimizing or eliminating waste at converter facilities with printing technologies that avoid press startups and shutdowns. Renew is about designing products with higher biorenewable content, which immediately translates into CO2 emissions reductions. Recycle is about products that enable enhanced recyclability, including repulpability and compostability, of a range of packaging structures. And redesign is about fundamental rethinking of packaging designs and printing processes.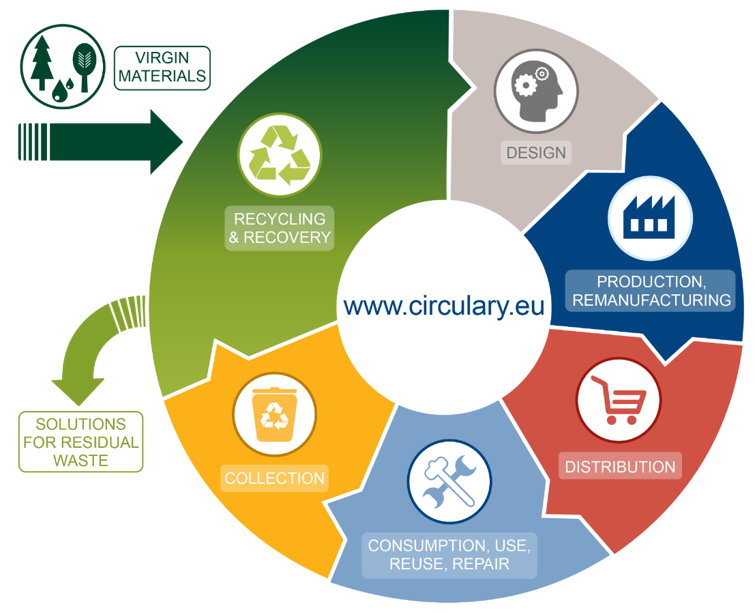 Brand owners and converters can enable reuse by designing products that contain post-consumer recycled content or by using protective coatings and resistant inks that can withstand multiple wash cycles. Barrier adhesives technology and direct food contact inks can reduce packaging layers and weight, while inks with higher levels of renewable content translates into CO2 transmission reductions. Converters can redesign their printing processes by switching to a multi-purpose ink that can be used on different types of presses or even switch to extended color gamut printing to reduce waste.
Washable ink technologies are game-changing, allowing converters to address the demands of brand owners and delivering an immediate and measurable impact for the plastic packaging market. These inks are designed to be removed and separated from recoverable plastic substrates in today's mechanical recycling processes, which improves recyclability of packaging and enables industry certifications that are important for brand owners.
There are some considerations to keep in mind for sustainable product developments. First, new solutions must be designed in the context of properly validating assumptions and confirming that the carbon footprints of alternative package designs are actually achieved. This is done through lifecycle analysis. Additionally, costs must be managed because sustainable solutions generally don't carry a premium in the market.
New product developments must comply with current regulatory standards to ensure they're favorable not only for the planet but also for human health. Increasingly, safety and compliance may not be enough. When detection of certain substances is of concern, even at exceedingly low levels, a brand owner's reputation may be at risk. In a circular economy where such substances have to be managed through a full product lifecycle, from cradle to cradle at minimum, "beyond compliance" may become the new standard.
The Future of Sustainable Materials
Committing to sustainability means prioritizing and enabling increased materials circularity. To support this shift, brands and converters should focus on making packaging that is easier to recycle or otherwise recover. The 5R framework can be a guide to help identify areas of waste and determine the best route to commence sustainability initiatives.
Technological innovation is a result of the entire market and value chain, from retailers and brands to suppliers, converters, recyclers, nongovernmental organizations and legislators, all communicating openly, working together and being aligned towards the achievement of sustainability goals.
Dr. Nikola Juhasz, Ph.D. is the global technical director for sustainability at Sun Chemical, where she engages with internal and external stakeholders to formulate sustainability-driven technical strategies and oversees the corresponding innovation and product development programs across all of Sun Chemical's product lines and technology platforms. To learn more about Sun Chemical's sustainability initiatives, including Sun Chemical's SunEco portfolio of solutions and the 5R framework, download Sun Chemical's Sustainable Growth guide at https://www.sunchemical.com/sustainable-growth-with-the-5rs/.