Published: February 25, 2022
Decreased production downtime and reduced cost of ownership for ZERO Technology tools, which allow food manufacturers to easily break monomaterial multipacks into individual cups.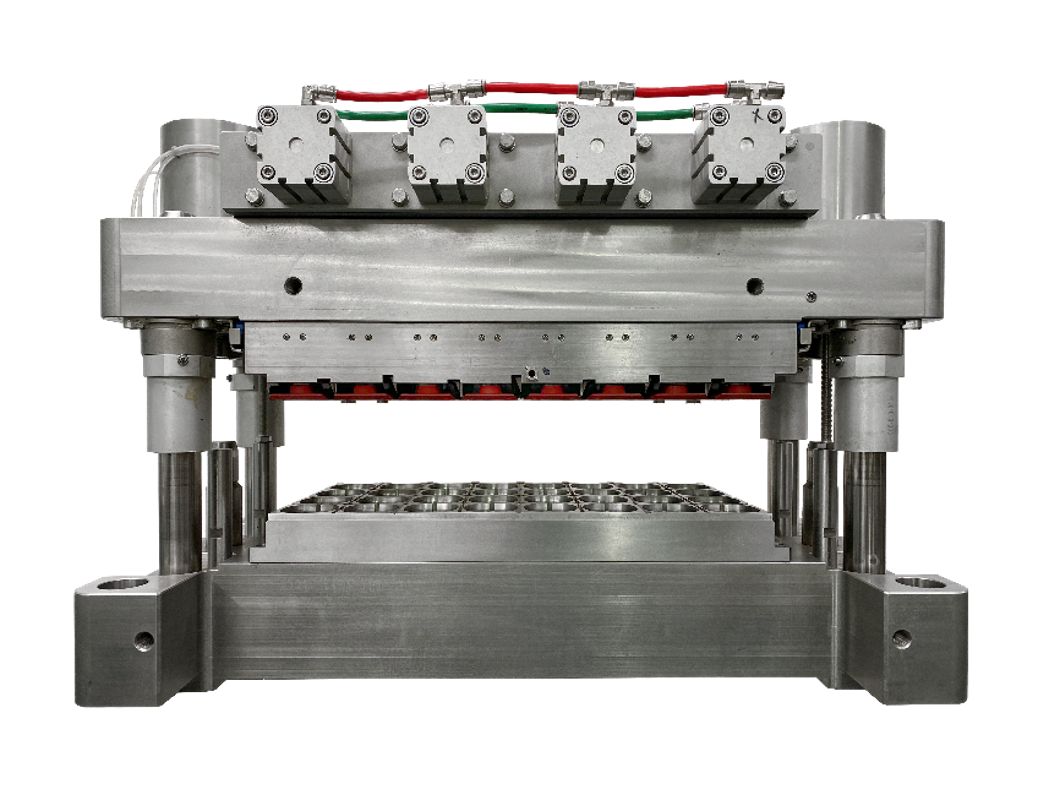 IMA DAIRY & FOOD USA – whose equipment solutions comprise the long-established brands Gasti, Hamba, Hassia, Fillshape, Corazza, Erca and Intecma – has made enhancements to the cutting tools utilized for its recently introduced ZERO Technology, which helps food brands easily utilize sustainable monomaterial cup packages. Highlighted by an extractable central cutting unit (CCU) design, the innovation drastically reduces production downtime for change-outs, minimizes spare part costs and significantly raises the number of punches between sharpenings.
Ideally suited to IMA's Erca, Hassia, and Intecma brands of form-fill-seal (FFS) machines, IMA's patented ZERO Technology utilizes a patented punch process providing high-quality cutting and pre-cutting of eco-conscious materials such as PET, PP and PLA. This allows for easily breaking multipacks into individual units – a notoriously cumbersome process that has limited the use of eco-friendly, monomaterial packaging materials in many cup applications.
Its enhanced cutting tools overcome other longstanding obstacles: production downtime and cost of ownership. Using an interchangeable cutting elements setup that allows individual tools components to be expediently replaced onsite, line stoppage can be reduced to 20 minutes rather than the onerous three-six hours required to switch out an entire cutting tool. This simple "building block" approach also internalizes the servicing process, keeping the tool's various components in-house for ongoing maintenance rather than shipping the entire cutting tool to an external entity.
Cost of ownership also is significantly reduced. This is because internally replacing CCUs piecemeal is far less expensive than replacing entire cutting tools externally. In addition, IMA's Zero Technology cutting tools are more robust than conventional tools, yielding upwards of 7 million punches between sharpenings – double or even triple that of traditional cutting tools.
ZERO Technology uses independent sleeves that allows cup design changes without the need to manufacture an entirely new thermoforming mold. The result is a by-design materials agnosticism that can help food brands take important next steps in sustainability. Notably, outfitting a formed cup with a PET lid and label creates a completely recyclable package for premium sustainability. In addition, the use of transparent monomaterials makes the product visible to consumers, enhancing on-shelf aesthetics.
Other equipment in the ZERO Technology range includes special pre-heating plates, which can be easily dismantled for simple maintenance. Additional material savings can be realized by using special thermoforming molds that allow the use of thinner materials.
For more information, visit www.imadairyfood.com.