Published: February 07, 2022
D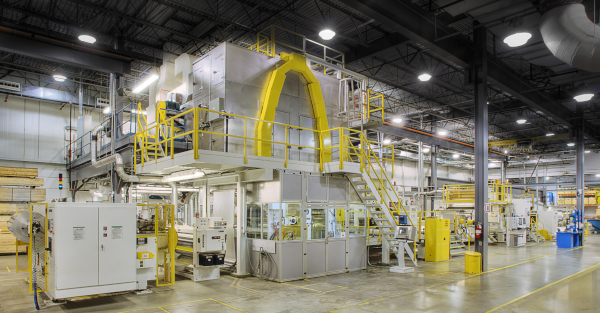 avis-Standard's team from the U.S. and ER-WE-PA, Davis-Standard's subsidiary in Germany, will promote extrusion coating, liquid coating, slitter rewinder machinery, specialty cast film and aftermarket capabilities at Hall A5, booth 1310 at ICE Europe March 15-17 in Munich, Germany.
This includes Davis-Standard's new cloud-based IIoT (Industrial Internet of Things) platform, DS Activ-Check™, enabling converters to take advantage of digital transformation for preventative maintenance and improve operations. The company's demonstrated expertise in designing machinery for a circular economy includes mono-material structures, use of bio-degradable resins, increasing recycled content, added functionality with twin screw technology, edge trim recycling systems and energy-saving design features.
Extrusion Coating – Davis-Standard offers the industry's most versatile equipment platform for extrusion coating and laminating applications. From laboratory-size systems for R&D to five-meter-wide systems for industrial materials, Davis-Standard collaborates with customers to address precision gauge control, splice speed, simplified changeovers, better adhesion properties, high-speed transfer, and operator safety. All equipment, including extruders, controls, coaters and laminators, winders and unwinders, is engineered for reliability, minimal waste, consistent performance and profitability.
Liquid Coating – With more than 50 standard and custom liquid coating products, Davis-Standard is experienced in helping customers attain the proper viscosity, emulsion, pH, and adhesive characteristics for their products. Applications include tapes and labels, silicone-coating products, paint protection films (PPF), and specialty coating markets. Davis-Standard can address low to high-speed applications, narrow and wide applications, simple lines with a dedicated coater, as well as complex coating lines with multiple cartridge coaters. In the growing area of PPF,
Slitter Rewinder Machinery – Deacro Industries, a Davis-Standard company, supplies slitter and rewinder technology for applications in food packaging, medical packaging, industrial products, pressure-sensitive labels and others. Unique to Deacro are roll lock differential air shafts, closed-loop rewind tension control and auto core placement to improve processing efficiency. Deacro also excels in automation to reduce set-up times by minimizing roll loading times between finished sets, simplify maintenance and streamline roll packaging. Existing manual slitter rewinders can be upgraded with automated technology to improve performance.
Cast Film – Davis-Standard supplies a broad range of solutions for cast films. The company's modular stretch film line for high-grade film operations, CPP film, and high barrier films production include a compact machine arrangement, ease of operation and servicing, excellent profile control, consistent roll quality and an intuitive control package.
DS Activ-Check™ – DS Activ-Check uses analytical tools based on long-term cloud data storage, along with process and equipment technology algorithms, to help management and production teams identify and improve product quality and line productivity.

Aftermarket – All equipment is supported by regional aftermarket services. This includes an extensive spare parts inventory, timely 24/7 customer service, global technical capabilities, rebuild and retrofit services.
For more information prior to ICE Europe, visit www.davis-standard.com.