Published: February 03, 2022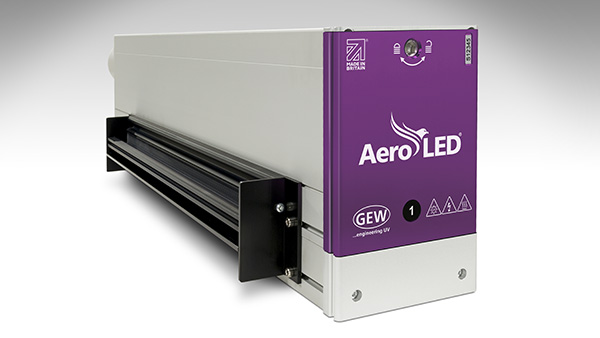 UV curing specialist GEW has launched a major new product for both the company and the narrow web printing market. AeroLED is a fully air-cooled, high power UV LED system for full cure, printing, coating and converting applications up to 60cm wide.
AeroLED delivers power and reliability with a unique concept which eliminates many operational problems in existing air-cooled LED systems on the market. Moreover, the innovative design makes AeroLED cost-effective and step changes the accessibility of LED printing.
The first significant innovation is in the air-cooling process. Cool, filtered air is distributed from a single centralized fan sited away from the press and exits through the UV lampheads, for quiet and reliable operation.
The remote positioning of the fan avoids common problems caused by ink mist and dust ingress, while large air filters reduce the filter replacement cycle. There is no need for integrated fans or electronics in the individual lampheads, eliminating the high-pitched noise and contamination issues that these bring.
AeroLED features the same LED chassis and core components as GEW's LeoLED lamphead, for proven reliability. As with LeoLED, the new lamp uses GEW's standard cassette design for easy maintenance, with tough watertight seals to protect the LED modules from ingress and to make cleaning easy and safe.
AeroLED's efficient optical design enables the lowest energy usage of all GEW products delivering energy savings of typically 50-70 percent, when compared to a conventional UV arc system. In addition to reduced operating costs, printers upgrading to LED are able to free up a significant level of mains capacity, which can then be used to install new machinery and subsequently increase production. Two AeroLED systems have a lower electrical supply requirement than just one conventional arc UV system.
In addition to the sustainability benefits of AeroLED, GEW highlights the ease of installing a retrofit upgrade. A further advantage of LED in the curing process is its predictability and stability of UV output. AeroLED delivers a step change in process control by ensuring stable UV output year after year, and eliminates the uncertainty of conventional UV lamps, reflectors and mechanisms to ensure consistent production quality.
To learn more, visit: https://www.gewuv.com/