Published: October 15, 2021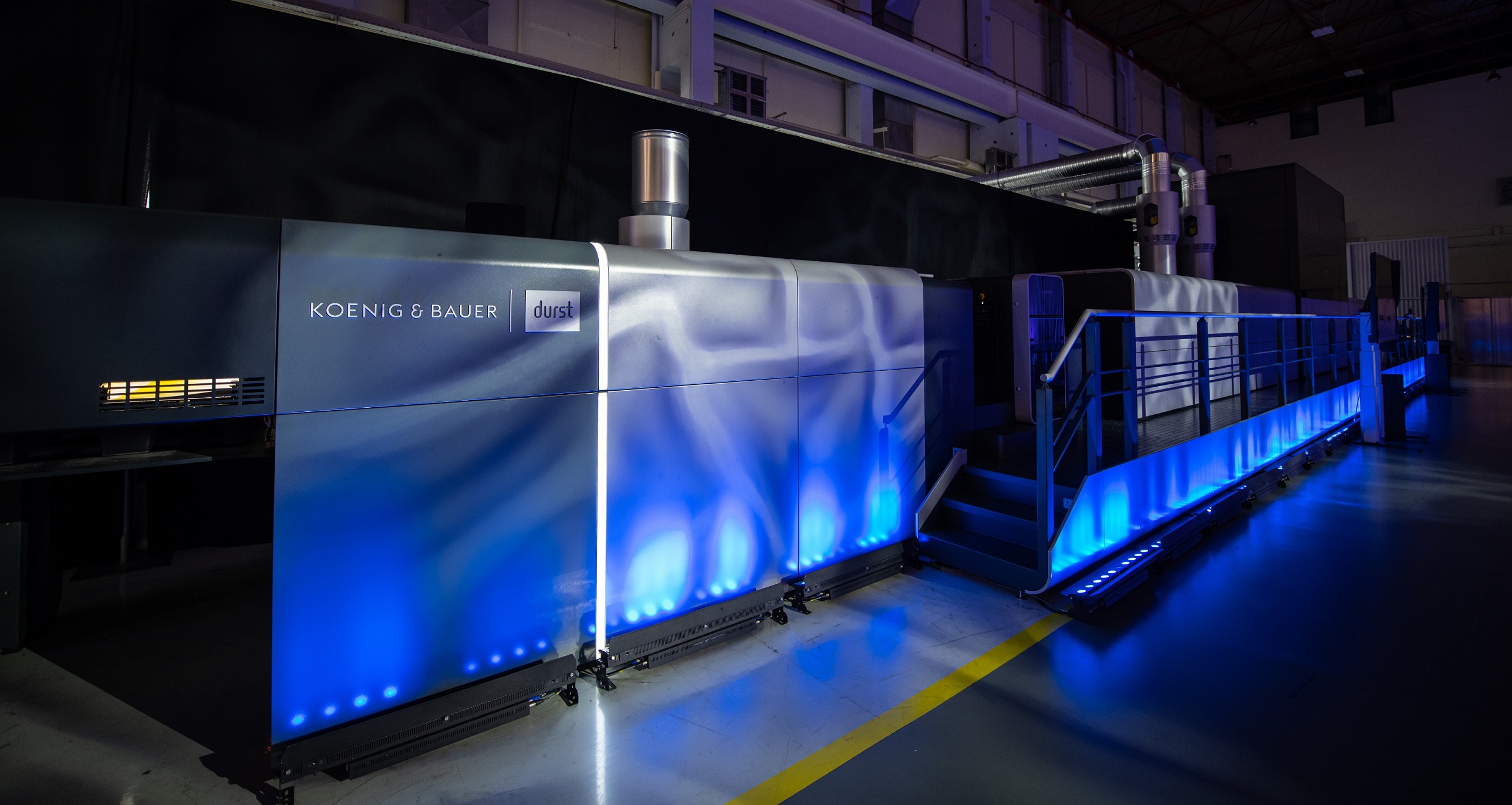 Koenig & Bauer Durst GmbH has unveiled the VariJET 106 in a world premiere with exclusive live demonstrations for customers and stakeholders in Radebeul, near Dresden, Germany, where the modular single pass sheetfed digital printing press for the folding carton market has been jointly developed by Koenig & Bauer and Durst.
Using market-proven industrial expertise from Durst and Koenig & Bauer, beta testing is due to start in the coming weeks. The first units of the VariJET 106 are due to be installed at customer sites in Europe and America in the second half of 2022. Target groups include pharmaceuticals, cosmetics, tobacco and food industries, as well as folding carton converters.
The B1 5,500sph press combines the best of both worlds – digital inkjet and classic
offset printing. The VariJET 106 is based on water-based inkjet processes to provide the highest print quality. The innovative digital printing system is at the heart of the collaborative development between Koenig & Bauer and Durst. The VariJET 106 platform is based on Koenig & Bauer's standard high performance Rapida 106 platform and Durst printhead electronics, inkjet expertise and Durst workflow and RIP technology. This includes Durst Analytics, Smartshop and Workflow.
Using 7 color water-based food compliant inkjet technology (CMYK plus orange, green and violet), the VariJET 106 is suitable for food applications that meet the stringent requirements for food safe primary packaging utilizing proprietary water-based ink technology. The VariJET 106 can produce personalized and individualized print products or alternate between short and medium runs.
The VariJET 106 offers:
Modular integration of upstream and downstream processes;
Combination of digital print with proven modules of the Rapida platform;
Perfect register accuracy thanks to inline production;
Highly competitive TCO, efficient production of ultra-short to medium runs;
Reduced resource consumption, storage costs and waste;
Absolute flexibility for test packaging and new campaigns; and
Fastest possible response to market demands.
"We are really excited by the progress we have made and the opportunities with our VariJET 106 despite these testing times. We have beta sites at an advanced stage of planning," said Robert Stabler, managing director, Koenig & Bauer Durst. "These potential customers already have a vision for mass customization will be working with us in partnership. Feedback from our customers is that shorter run lengths, mass customization and the need to be more agile are the compelling reasons for moving to digital production."
For more information, visit https://www.koenig-bauer-durst.com.