Published: July 06, 2021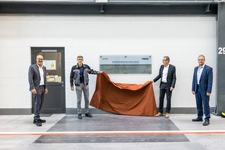 Designed as one of the most efficient specialty paper machines in the world, Koehler Paper commissioned Voith's production line 8 at its Kehl mill at the end of October 2019 - after a previous project time of only around two and a half years.
Thanks to ongoing optimization, the company recently achieved a groundbreaking level of performance for the production of around 40 gsm base paper at a continuous speed of more than 1,400 meters per minute.
Due to intensive cooperation, permanent project support and continuous optimization from Koehler and Voith, the line reportedly achieved an average speed of 1,410 meters per minute over a period of 24 hours as well as a maximum value of 1,432 meters per minute - a world record for the MG paper machine.
Another outcome of the collaboration between Koehler and Voith is the development of cutting-edge products. As part of the development partnership for new paper grades, Voith carried out several test series on the R&D pilot coater at the Voith Paper Technology Center in Heidenheim. The technological requirements of the new paper grades were investigated in depth and then implemented in the new production line. This has resulted in the innovative products of the NexFlex® product line, Koehler's flexible packaging paper.
With a volume of 300 million euros, the entire production line 8 is one of the largest investments in Koehler's history. As well as the XcelLine paper machine and an offline coating machine, the project includes a BlueLine stock preparation system including wet end process and a VariPlus winder. The facility is designed to produce around 100,000 tons per year of various paper grades.
A special technical highlight is the MG cylinder, which has a diameter of 7,315 millimeters, the largest of its kind worldwide at the time of installation. The cylinder reportedly gives the paper its unique smoothness, which is essential for optimum downstream processing. Thanks to the MCB air dryers, the coated paper is dried extremely gently and without contact, while at the same time maintaining high thermal efficiency.
For more information, visit https://www.koehlerpaper.com.