Published: June 02, 2021
Marc Levine, Director of Business Development, GMG Americas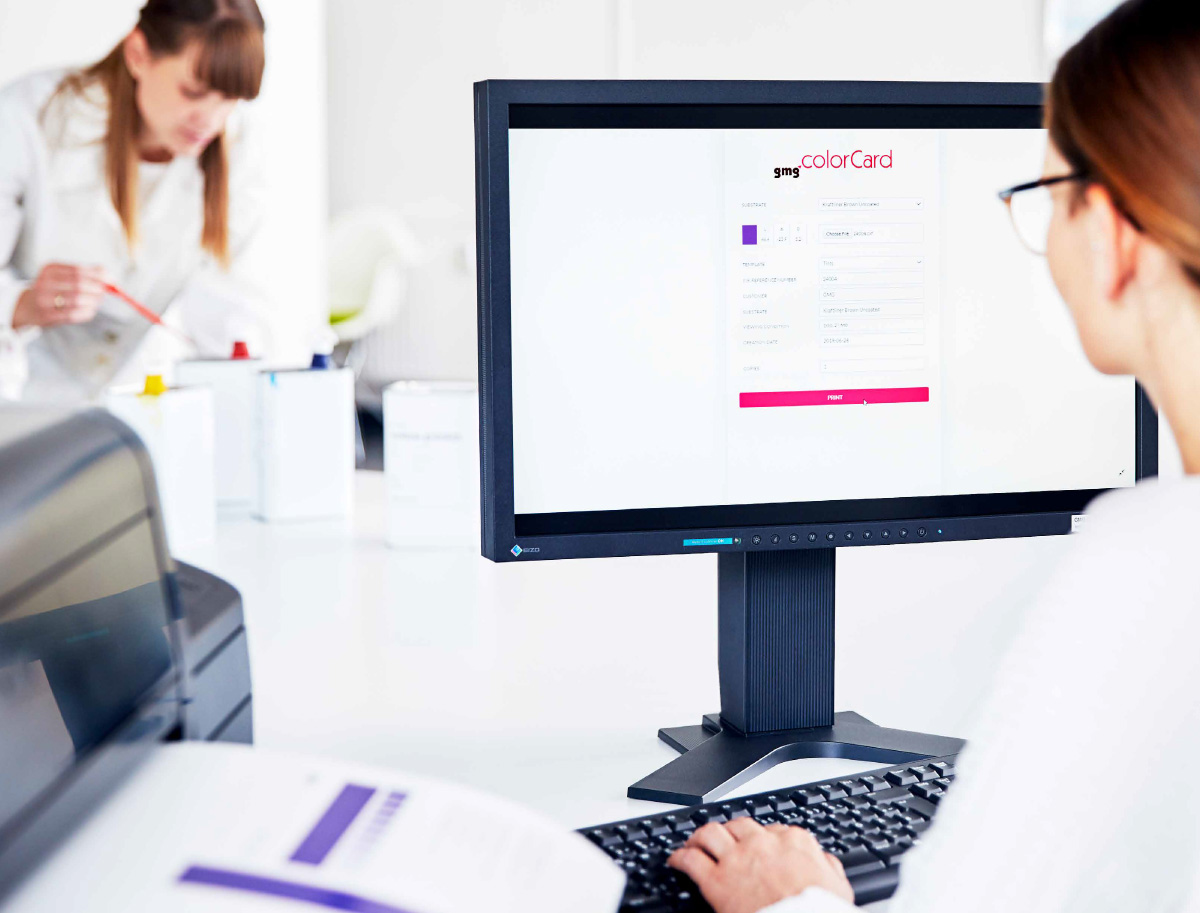 Brands need to be assured that a printer, and a press, will meet the challenge of matching their colors. A brand's colors may appear on a wide variety of substrates that can have different surface colors and printability. To ensure the same visual appearance, a printer or ink company performs a color match for each different printing material, on each different printing process. The color match is done in an "ink kitchen"—a special room with special ink formulation software and equipment.
The process to show that an ink can match brand expectations is important. Unfortunately, creating an ink "recipe" is also quite involved. Part of it is the production of a real physical target that allows partners to visualize the color before going to press. Part of the matching process involves making multiple "drawdowns" where a small of ink is applied to the printing material to test how well in ink formula will reproduce a specific color.
Conventional drawdown-based color prints
Drawdowns are necessary to get to the closest matching color—the only way to determine what the ink really looks like on a substrate.
Conventional prints are sometimes created with a small, special printing machine simulating real printing conditions as closely as possible. In other cases, drawdowns are made with a manual hand-roller. In some special cases, printers will even use an actual press to make the prints, typically very expensive. Varnish or laminates may be applied to the drawdown to simulate those effects. This is often slightly different than in production, resulting in some variances in appearance.
To finish a traditional color print, rectangular patches are cut from the drawdown and mounted on a card or sheet with job information—and sent to all supply chain participants. If the color isn't approved, a new color match might be created—with new drawdowns—for further review and approval. Once everyone signs off, the printer is contractually required to match it on press.
A new process: digital color cards
There is a new approach that is simple to use, faster, and more consistent: digital color cards. A digital color card solution creates color match reprints, including the substrate color and texture, on a calibrated digital inkjet printer using reliable, wide gamut inkjet media. Because no special equipment is required, they may be printed anywhere, even onsite at the brand or designer, without shipping costs or delays.
For the printer, color cards are indispensable for setting expectations in advance. Early brand evaluation can help to set expectations upstream so that printers can achieve the best possible end results with minimum rework or waste on press. With digital color cards, printers have an accurate spot color visual for each combination of ink and substrate, even when using different print technologies.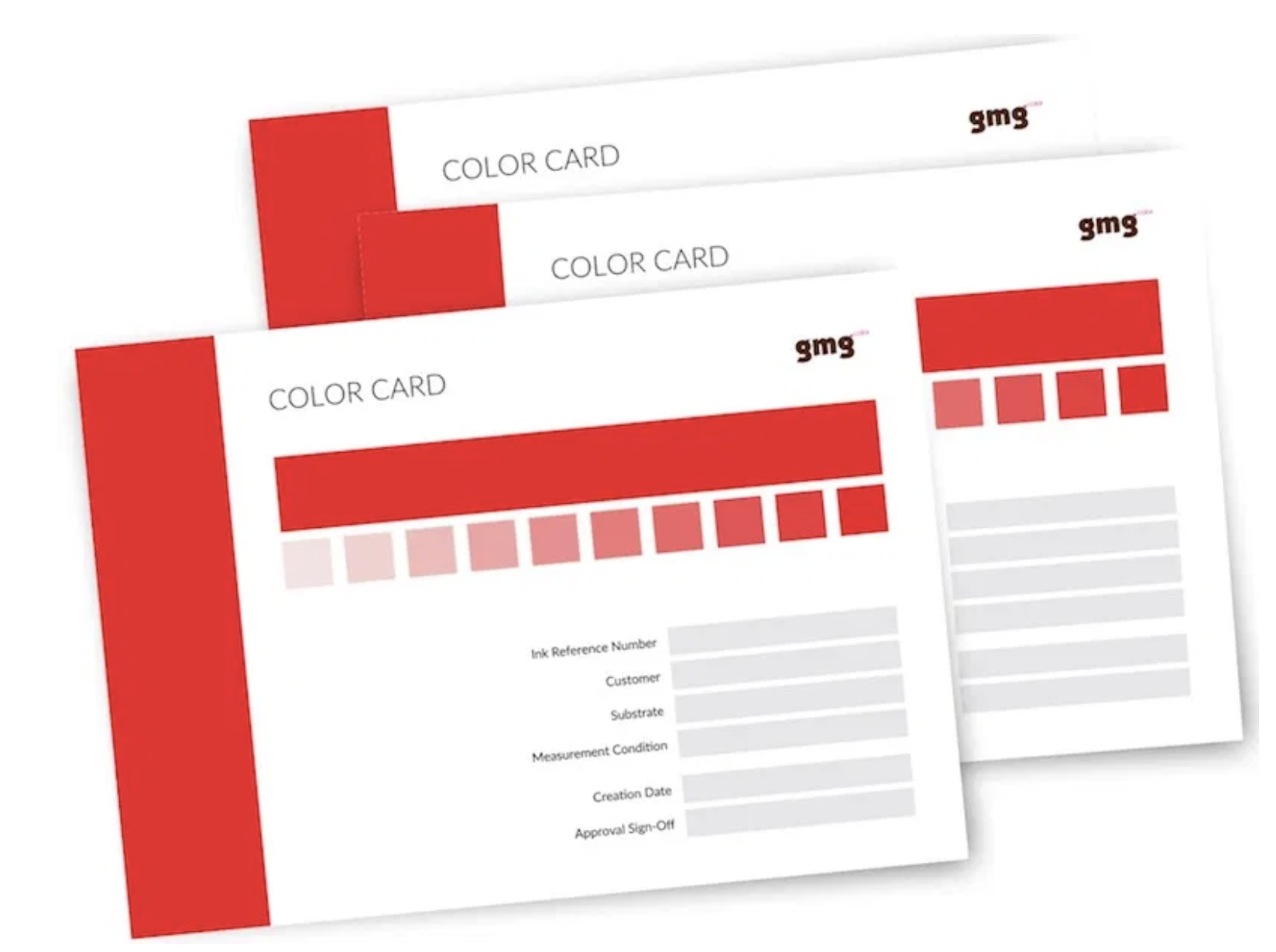 How about density variations and tints?
Conventional drawdowns can provide target color examples, but there will always be some variation on press. Many brands use 2 dE00 (deltaE 2000) as a tolerance—but what does that look like? Digital color cards can offer an accurate visual representation of both the color target and variations based on allowed tolerances. Thus, printers can truly set the visual expectation for the brand upstream—before going to press.
Conventional analog color drawdowns cannot effectively simulate how tints will print because the tools are either expensive or printers don't have every variation of drawdown tooling to match production. With digital color cards, everything happens on the same card, with digital precision.
What does this mean?
Ink drawdowns typically require manual work done by experienced ink kitchen staff. The industry is continually searching for trained operators to oversee these significant tasks. This simple, easy-to-use digital solution allows printers to assign the task to users with basic computer skill sets, saving their experts' time for more sophisticated work.
Digital color cards ensure that print results meet print buyer expectations, easily illustrating color variations within spec. They help supply chain partners to simplify the color communication process from start to finish. Digital color cards make the visual color communication process faster, more accurate, and more reliable—something that printers can easily provide—and brands can work with.
About the Author
Marc Levine is a member of GMG Americas' senior management team as director of business development. In this role, Levine helps to expand adoption of GMG technology across all print segments.

Digital Drawdowns Work for Seb. Wolf GmbH

Adalbert Heckler is a color management consultant (cmmb-heckler), hired to recommend, implement, train and control a complete color management system for Seb. Wolf GmbH, in Germany. Wolf, who celebrated its 100th anniversary last year, produces upmarket high-end labels, sophisticated job printing and packaging for producers and marketing companies.

About 85 percent of Wolf's inks are spot colors. They wanted to be independent from an ink factory, to gain control over in-house ink mixing. While they invested in ink formulation software, they determined that they needed a better way to show customers ink colors before going to press.

Wolf often had to remix inks so that spot colors would print correctly on different substrates. They needed a drawdown process that would reduce costs, add speed, and improve color accuracy on their substrates—along with holding color over a longer period of time.

"We installed a digital color card system in the ink lab, conducting press fingerprints, and were given settings for standard substrates—and new templates for custom substrates" remembers Heckler. "We can now print samples with or without variations. For example, if the customer is willing to accept ±1dE on press, we can show them three patches: one that is perfect, and ones that are +1dE and -1dE. We can also print a number of test tint patches from 0-100 percent. With the digital system, we are more precise than before."

After a color is modified, a digital color card "proof" is passed around for approval. If a customer has eight people who need to view the samples, it is much easier and less expensive to send eight digital color cards. Customers get exactly on press what they see on the cards.

For Wolf, GMG ColorCard is faster, has reduced makeready time, and reduced stock waste, because the color on press is now accurate. "To create a color reference traditionally would take 45 minutes. To get a digital color card takes three minutes—and is much cheaper," notes Heckler. "In fact, if someone is out for the day, we can easily replicate the ink from the recipe."