Published: March 11, 2021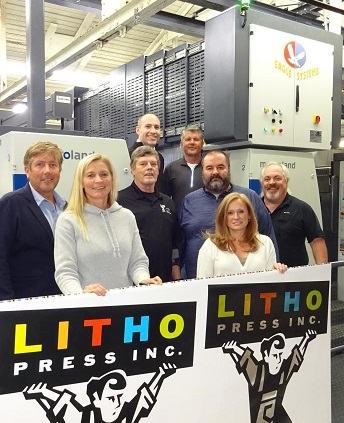 Eagle Systems, Inc., a U.S. based developer and manufacturer of foil enhancement equipment, announced that Litho Press has installed an Eco-Eagle Cold Foil Module on its ManRoland 900 HiPrint press. The installation, which was just completed in January, was no easy feat due to the physical restrictions of the building.

"Making it happen required some extreme planning and prep work because of the steel girders that hang just above the press," said Bernie Lacy, president, Litho Press. "No detail or measurement was too small or finite not to take into consideration. But in just a few days, the systems were humming away, the staff was trained, and we were ready to promote our accelerated capabilities."

The finished product is believed to be the largest cold foil system in operation, anywhere. Spanning 73 working inches in width, but shorter in height than a typical system, Litho Press can now enhance and embellish projects previously thought undoable.

"The Eagle system fits ideally with our business model of offering speed-to-market, quality products, delivered on time. Not only can we now offer a substantially larger and more efficient product, Eagle cold foil cuts our turnaround time in half, at least," added Lacy.

In less than a month's time, Litho Press is opening new markets, and already attributes new clients specifically to the quality, speed and added value of this extra-wide cold foil system.

Litho Press is a family-owned 45-employee large-format commercial printer, based in Indianapolis, specializing in printing litho labels and topsheets for corrugated packaging, folding carton, and POP displays.

"While many are still lamenting about the year that was 2020, at Eagle we experienced our best year on record," said Mike King, president and CEO, Eagle Systems. "Globally, the industry has continued to realize a rapid adoption of cold foil. Add to this our growing track record of reliability, adaptability to most presses, and a user-friendly interface, and it just makes sense. Especially in downtimes, the need to differentiate becomes even more critically necessary."
For more information, visit https://thefoilexperts.com.