Published: March 09, 2021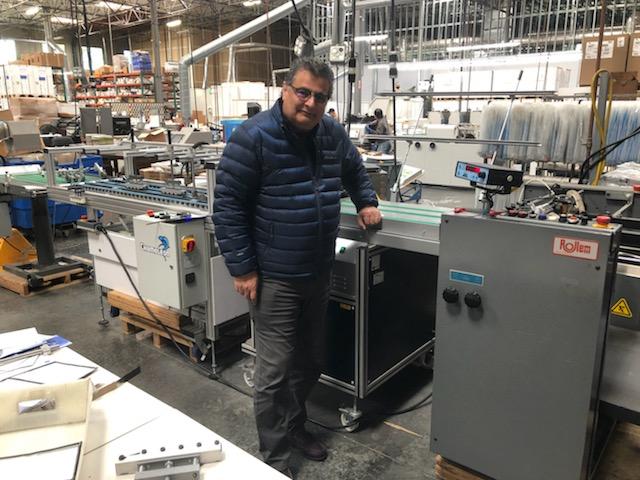 DPI Direct a Digitalpro, Inc. company, located in Poway, Calif. provides digital printing, large format, labels and packaging, direct mail, POP and much more to clients in the San Diego vicinity. Here we address how the Rollem Bi-Directional Slitting, Scoring and Perforating Finishing System handles a variety of HP Indigo 12000 press printed products.
Sam Mousavi, president and CEO, states, "Rollem is a partner we value for presenting us with dependable, automated solutions such as the 30" Mailstream system. With our wide portfolio of sheet-fed products, the Rollem solution is equipped to handle a variety of job types and deliver finished products on time with 100% accuracy.
Challenge and Solution
As their direct mail programs expanded, the Indigo 12000 press was outputting personalized mailing pieces but bottlenecks were occurring in their back-end work flow area for mail finishing. One solution Rollem provided is the Jetstream system configured to operate in-line with the Advantage folding and gluing system for one step processing with just one operator. "We operate the Jetstream unit in-line with the folder/gluer unit to feed, slit, score, fold and glue, all in one uninterrupted process. The purchase of our 30" system has been the perfect complement to the larger format output from our HP Indigo 12000 press", states Mousavi.
Rollem's Jetstream is comprised of either a TR Die-Score model and Rollaway or two Rollaway units each equipped with slitting, scoring and perforating functions. These two units are typically configured at a right angle to perform bi-directional finishing which may include edge-trimming of all four sides greatly speeding up finishing functions. Jetstream is flexible in that a single Rollaway unit can run in a straight line when the bi-directional processes isn't required. To further increase productivity of mailing pieces, the Advantage folding and gluing system may be added in-line with the Jetstream for one-step processing from flat sheet to finished and folded products on the Mailstream.
For more information, visit https://www.rollemusa.com/jetstream-ssp/