Published: February 26, 2021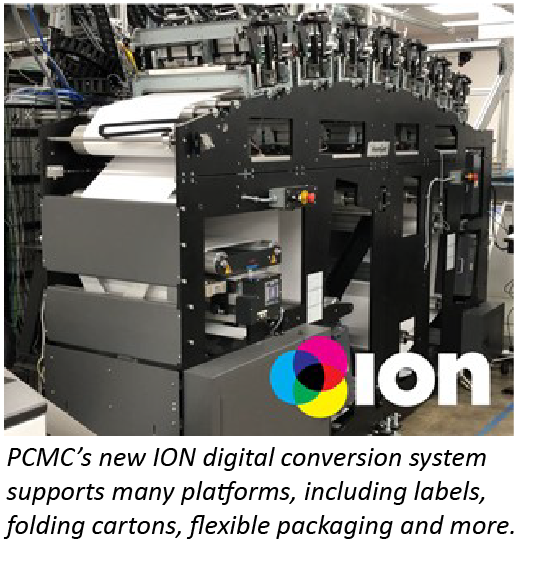 Paper Converting Machine Company (PCMC), part of Barry-Wehmiller, has announced the launch of its ION digital conversion system.
This new flexible inkjet printing solution reportedly provides superior print quality for many platforms, including labels, folding cartons, flexible packaging and other specialty printing markets. With industry-leading 1600 by 1585 dpi native resolution, the system can print in various modes at speeds up to 668 feet per minute.
The ION digital conversion system is powered by Memjet's DuraLink® technology. DuraLink combines long-life printheads, pigment ink and flexible modules that can be configured from 8.5-inch print widths up to 60 inches.
DuraLink's aqueous pigmented ink-set reportedly offers a durable, water and light-fast solution for a variety of digital print needs. With these features, PCMC can quickly and easily develop solutions for high-volume commercial, packaging and industrial printing markets.
The ION is a fully modular system and is available as a mono-color print-bar and full-color printing platform with expanded gamut printing.
"We are excited to add ION digital to our product portfolio," said Rodney Pennings, printing, coating and laminating sales director, PCMC. "The combination of PCMC's vast experience in flexographic printing with Memjet's breakthrough inkjet technology results in a powerful solution for our customers in a variety of print and packaging markets."
For more information, visit https://www.pcmc.com.