Published: January 19, 2021
BOBST, a leading equipment manufacturer, works hand-in-hand with converters to enable them to produce fault-free packaging and satisfy the needs of their clients. For more than four decades, the company has been developing sheet-fed printing and processing equipment for the production of high-quality printed corrugated board.
To continue this process, BOBST is building its future vision of the packaging industry on four pillars: digitalization, connectivity, automation and sustainability, to offer unrivalled productivity, sustainable production and predictable results.
BOBST has a comprehensive portfolio of flexo presses for the production of unmatched print quality at lower cost, all in one pass. At the high end of the spectrum is the BOBST MASTERFLEX HD, which is a benchmark for all 2,100 x 1,300-millimeter format flexo presses. With a host of advanced control technologies and automatic adjustment features, it reportedly offers a credible alternative to offset printing, with exceptional print quality and significant savings across the process.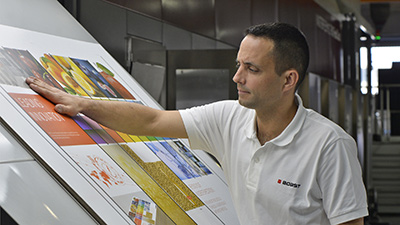 BOBST offers two levels of print quality for its inline solutions, which can reportedly be fitted with either 'High Graphics' or 'THQ (Très Haute Qualité) FlexoCloud' technology to give converters the tools to produce exceptional flexo rint jobs and increase their market share.
The oneECG THQ technology uses a fixed set of colors, which could drastically reduce production costs by saving on ink and other consumables and could minimize the number of changeovers and downtime. Printing in CMYK will reportedly cover 65 percent of the color gamut and could be increased to 90 percent with an expanded ink set where three colors are added to CMYK.
BOBST has developed Registron S6500, a user-friendly, high-quality sheet-positioning system with easy set-up. This can be combined with the pioneering BOBST Start&Go system, which offers fast automatic set-up at the start of each job in just a few sheets.
BOBST has a team of training and printing process specialists available for sharing skills and expertise in flexographic printing. Customers can also access training and support remotely through the MyBOBST dedicated online portal, where they can also monitor real-time machine data, access technical information and order spare parts.
For more information, visit https://bobst.prezly.com.