Published: January 05, 2021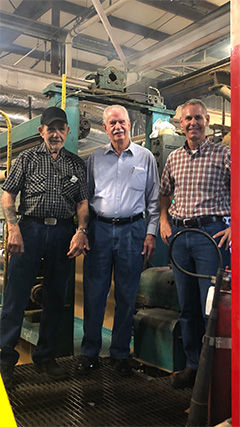 Plastic Coated Papers, Inc. of Pensacola, Florida, installed its second Davis-Standard extrusion coating line. The employee-owned company supplies local and international markets with high-quality, customized polycoated products such as polycoated paper, freezer paper, foil coated paper and pre-laminated sleeve stock used in food service, construction, home products and other industries.
The new Davis- Standard line complements the company's existing Black Clawson Converting Machinery Division machine, known as "the tank," as the company positions itself for future expansion.
The company will reportedly continue to run this line in addition to the new one. The new line will be capable of speeds up to 1,500 feet per minute (450 meters per minute) with maximum untrimmed web widths of 74 inches (1,800 millimeters).
Davis-Standard supplied all components including extruder, die with APC, automatic unwind/splicer, pre-corona treater, extrusion coater/laminator, auxiliary unwinds, slitters, post/corona treater, automatic winder/roll changer, Integrator supervisory control system and associated equipment.
The line features the latest automation technology and will add a new level of efficiency and production speed to Plastic Coated Papers' current operation.
"The new line positions us for the long-term as we support our existing product portfolio and provide even greater customization for our customers in the U.S. and abroad. The current line is a tank, and we know we'll get that same quality with this new one," said Steve Pinette, president, Plastic Coated Papers. "We have better control over the variation in PE resin and the paper and are able to achieve more consistency."
For more information, visit https://www.polycoated.com.