Published: September 24, 2020
W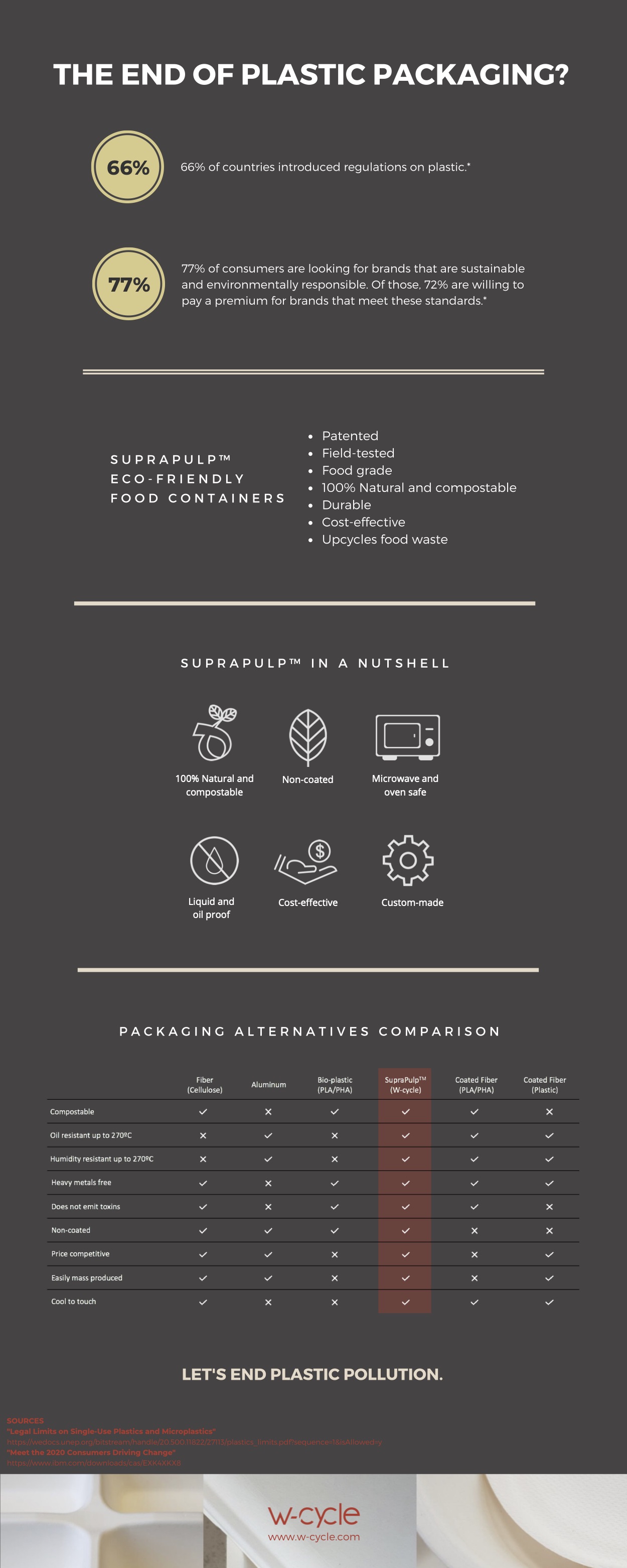 -Cycle, an Israeli foodTech startup has developed SupraPulp™, plastic-free packaging made of sugarcane waste that is fully compostable, safe, yet durable enough to be used for greasy, wet, or hot food. Packaged food with SupraPulp can be frozen and heated with either an oven, convection oven, steam cooker or microwave.
SupraPulp is reportedly patented, field-tested, and an ideal replacement for plastic, aluminium, or foam containers. It is made from 100 percent renewable sugarcane fibers making it non-coated, toxin and metal free.
Fresh meat, poultry & sea food are commonly packed in plastic due to their juice runoff. SupraPulp is a great replacement as it will not absorb them, leak or soften. Following years of R&D efforts, W-Cycle's new SupraPulp material is reportedly able to be frozen to -40°C and reheated to 270°C (-40°F and reheated to 518°F), inviting a comprehensive range of food applications. After use, the package can be disposed of as organic waste.
"This food-grade, compostable packaging is a one-to-one replacement for its plastic counterpart. There are other compostable solutions on the market, but SupraPulp has game-changing functionality consumers need when they want to heat, freeze, or microwave convenience food products. Plus, SupraPulp trays have a luxury look and feel compared to plastic, aluminum, or bioplastic containers," said Lior Itai, CEO and co-founder of W-Cycle.
"There is greater demand and pressure on brands to offer environmentally responsible products. Providing a compostable solution for ready meals, and meat products allows us to help food manufactures as well as consumers ditch plastic containers and create a cleaner environment. Together, we can put end to plastic pollution," said Joseph Siani, CTO and co-founder of W-Cycle.
For more information, visit https://w-cycle.com.