Published: August 31, 2020
By James Fogg, Business Development Manager Barrier Coatings - Pulp and Paper Technologies Solenis
More and more consumers, brand owners and other stakeholders are now looking beyond the traditional three-arrow triangle "seal of approval" for recyclability on food packaging. The demand today includes hazardous material safety as well as renewability beyond single-use materials — such as the ability for a package to be repulped, so it can be collected and recovered to produce new paper and paperboard products.
Food packaging has traditionally been formulated with a range of man-made chemicals, including polyvinylidene chloride (PVDC), polyethylene (PE) and perfluoroalkyl and polyfluoroalkyl substances (PFAS). These formulas have been well-optimized over the years to provide strength and protection as well as resistance to factors like moisture vapor, water, oil and grease.
However, many studies have indicated that those chemicals do not break down easily in the environment and/or are not recyclable, especially when they are part of a package structure. Scientists, non-governmental organizations and other stakeholders have also expressed concerns, which are being investigated, that some of these chemicals could be linked to health issues, including cancer, immunotoxicity and obesity. Additional pressure is coming from regulatory groups, legislative action and litigation, particularly in Europe and several states in the U.S.
In response, brand owners are beginning to actively consider ways to improve packaging sustainability to meet this new demand. For example, many brands, including some major retailers and beverage companies, have committed to reducing or eliminating single-use plastics by 2025. Paper converters are finding opportunities to work with brands to navigate these decisions by exploring new packaging material solutions that incorporate renewable materials.
Replacing Common Chemistries With Renewable Formulations
Chemical companies are developing new alternatives for paper packaging chemical formulations to help converters move away from some of the common, less-eco-friendly barrier coatings. These older substances under consideration for replacement include:
Polyvinylidene Chloride (PVDC): These chemistries, which are extruded into films and applied directly onto paper, are used as oxygen and moisture barriers. PVDC is often applied in a very thin coating and is difficult to break down for repulping. Innovative, barrier coatings, like Solenis PVDC-free barriers, adhere to the fiber itself versus the surface of the paper, allowing the end-use package to be repulped.
Polyethylene (PE): Commonly applied to cups and short-duration food-service packages, this fossil-based liquid barrier does not recycle easily, creating a source of potential plastic contamination. Solenis has developed water-based dispersions that are repulpable. These polyethylene-free barrier coatings which, for example, offer comparable performance and printability to PE-laminated cups, allow converters to provide brand owners with new cupstock solutions. They are also compatible with most standard coating equipment and processes.
Perfluoroalkyl and polyfluoroalkyl substances (PFAS): These chemicals, often used as oil and grease barriers, have earned the term "forever chemicals" because they do not break down in the environment. Companies like Solenis have formulated water-based, environmentally friendly barriers for applications like burger boxes and french fry bags. Developed to maximize renewable content, these alternatives provide similar oil, grease, vapor permeability and water resistance as PFAS coatings. Many of these PFAS-free solutions can be easily adapted for use with existing equipment.
Key Considerations for Selecting a More Eco-Friendly Barrier Solution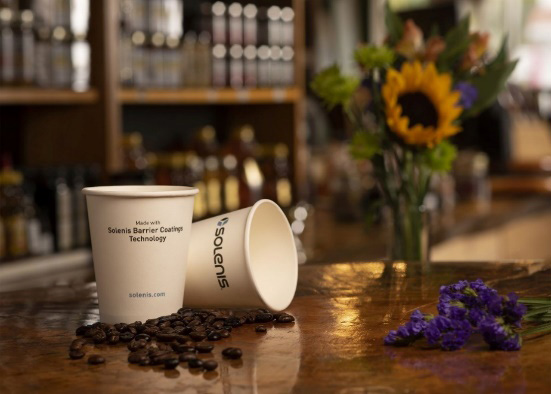 While providing customers with more sustainable paper packaging solutions, it's important to consider several factors from an operational perspective:
Compatibility With Existing Production Equipment - Paper packaging converters invest significant capital into equipment, so any discussion about incorporating new barrier coatings should address the production process itself. For example, many eco-friendly oil and grease coatings currently available are resin-based solutions that cannot be run on the same equipment as PFAS formulas. Solenis has developed water-based, PFAS-free barriers that can be applied with conventional coating processes, eliminating the cost and time associated with new equipment purchases or machine modifications.
End-Use Applications - Paper packaging is typically evaluated with tests that involve conditions, such as very high temperatures, that the end-use packaging might never be exposed to in real-world applications. Therefore, accurately evaluating barrier coatings requires an honest assessment of end-use functionality needs. For example, PVDC might achieve a moisture vapor transmission rate of one gram per square meter per day, while a repulpable barrier coating might transmit 15 grams per square meter per day, a rate that may still be acceptable for many applications. Converters and brand owners should work together early in the process to identify barrier criteria that balance necessary sustainability with real-world, end-use functionality.
Technical Expertise - Converters run different applications with many variables, processes and options that differ from job to job. It's essential to partner with a formulation supplier who can provide solutions customized for factors like viscosity, types of solids or drying capabilities. A knowledgeable packaging formulation provider will understand not just the chemistries, but also how those chemistries interact with a given substrate. It's also important to work with a partner familiar with different types of paper packaging equipment. This allows converters to implement a recyclable barrier coating optimized for their specific equipment for less downtime and maintenance. In addition, formulation suppliers with expertise in paper substrate chemistries and paper manufacturing, combined with knowledge of the paper substrate marketplace, can offer a comprehensive approach to packaging development.
Converters working with global brands have another consideration when choosing a formulation provider: ensuring a reliable supply chain. It's important to ensure the provider has the geographic reach to service the brand, particularly global ones. This consideration goes beyond logistics; brand owners must also ensure that each provider in the supply chain works together to evaluate and validate potential solutions before they're put into production.
These environmentally improved food paper packaging formulations can provide the sustainability and material safety benefits brand owners increasingly expect in food packaging. By collaborating with an experienced formulation solution provider at the beginning of the process, converters can be better equipped to help brand owners meet their sustainability goals.
About the Author:

Jim Fogg's experiences stretches across eight years as a machine supervisor at Mohawk Paper Mills, seven years in coating and specialty product business development at International Paper, nine years in specialty packaging URB business development at Sonoco Products and five years in barrier and coating product and business development at Ingredion. He is currently North America business development manager for barrier coatings at Solenis. Fogg holds two patents for a recycled packaging concept and has two patent applications in process for a novel coating concept.