Published: August 17, 2020
H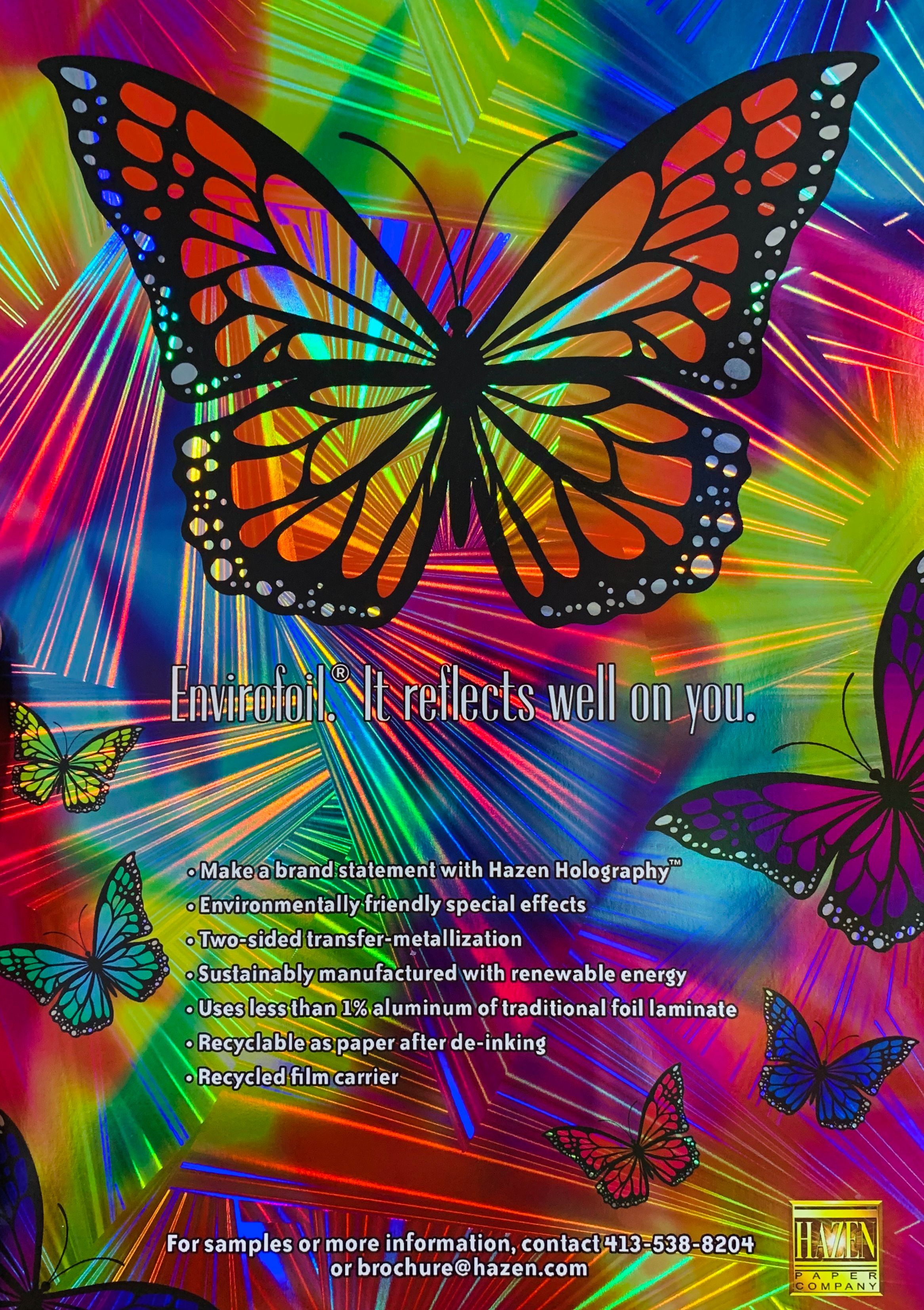 azen Paper Company has created an innovative, two-sided promotion to demonstrate cutting-edge holographic technologies.
Hazen's team reportedly designed the artwork on both sides to showcase specific visual effects with nano holography that delivers an even more dramatic three-dimensional effect than lenticular printing. The front features a fire-breathing dragon with minutely detailed glittering scales.
The effect of a blast of moving flames was reportedly achieved with registered, custom color-motion and multi-channel holography. On the back, a shimless random repeat custom hologram, "random burst," creates a moving, three-dimensional flash backdrop for a flock of butterflies.
Originated entirely within Hazen's state-of-the-art holographic lab and manufactured in Hazen's Holyoke facility, it was realized on Hazen Envirofoil, an environmentally friendly product. Sub-micron transfer-metallized Envirofoil uses less than 1 percent of the aluminum of traditional foil laminate and a recycled film carrier, and is repulpable as paper after de-inking.
It was offset-printed using UV-cure inks by AM Lithography of Chicopee, MA. Vertically integrated, Hazen can take production from design to holographic paper in less than two weeks.
Perhaps the most unusual aspect of the promotion is that it is two-sided custom holography, transfer-metallized on both sides.
"It hasn't been done before," said John Hazen, president of Hazen. "The ability to transfer-metallize a lightweight stock on two sides with custom holography opens up the potential for use in many applications where consumer impact is key. It's very exciting."
For more information, visit https://hazen.com.