Published: June 15, 2020
By Joan Mantini
The COVID-19 outbreak continues to pose unprecedented challenges to businesses across the globe, and these companies are indeed reacting to ensure new demands and production expectations are met. However, a significant challenge during the current crisis is the demand peak of masks, gowns, face shield and other supplies.
Across the globe we are witnessing companies repurposing production and R&D capabilities to support the fight against COVID-19. From auto manufacturers stepping up and providing hospital gowns and face masks, to local breweries providing hand sanitizer and disinfecting sprays.
Turning our focus to the converting and package printing industry - an industry deemed essential, we are witnessing companies that have not just remained committed to production at full capacity, but companies that have upped production rates to keep up with the increase in demands, going above and beyond to meet the challenges of COVID-19.
What follows are company reports highlighting how several of the businesses within our industry are providing essential services and shining during this pandemic by increasing production rates, creating new partnerships, producing personal protection equipment (PPE), and more – all while creating new, safe working environments for their employees.
American Roller
In these unprecedented times, American Roller is proud to be a trusted and dependable supplier of custom roller cores, high-release coatings and durable coverings utilized in many markets across the U.S., and the world. While the company doesn't manufacture essential PPE directly, its roller coatings, coverings and cores are a critical component to the manufacturing process of PPE and various other medical products, including all types of medical and industrial masks, ventilators, medical gowns and more.
American Roller has implemented many procedures to ensure its workforce is supported and safe. This includes additional routine cleaning procedures, social distancing expectations and the deployment of its internal support groups to work remotely until the current pandemic subsides.
The company's roller booking and customer service platforms are operating via cloud technology, which enables it to utilize its customer experience teams across the company's facilities. A centralized team, working together, ultimately providing the best experience possible to its client base.
"As long as our customers remain operational, so will American Roller," stated the company. "We have supported American manufacturing for over 80 years now. Together, we will get through this, and look forward to serving another 80 years."
Chemsultants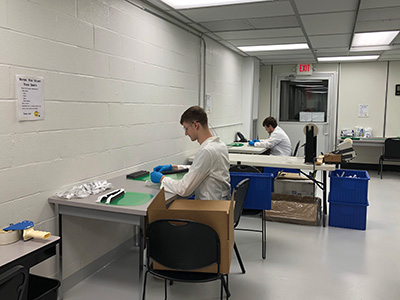 Normally, Chemsultants International Inc. works on converting customer issues into successes. With the onset of the Corona virus, Chemsultants discovered that they could also bring success to face shield production. They teamed up with a long-time vendor to use available materials and engineer comfortable, economical protection from Coronavirus.
When the governor of Ohio put into place a stay-at-home order, the idea to help manufacture PPE face shields was formulated. Chemsultants had various types of film and foam on hand that could be used to make face shields, and Quality Design Machining, a vendor since 1990, helped with the design of the Dispos-A-Vue 100. Soon after, production began using a former clean room that Chemsultants utilized for medical device manufacture. The company was able to bring its employees back to work and make it possible for others to work safely.
The Dispos-A-Vue 100 is an economical face shield that can be worn alone or with a face mask. It is a light-weight, full-coverage shield made from optically clear polycarbonate for maximum visibility, with a soft polyether foam forehead barrier and adjustable elastic headband. A removable protective layer on both sides of the polycarbonate protect it before use. The face shield is assembled in a clean room environment within a facility that operates under an ISO 9001:2015 quality system for medical component production and adhesive testing.
"My father, Dick Muny, started this company in 1986 as an entrepreneurial adventure," said Jennifer (Muny) Martin, vice president at Chemsultants. "He wanted to help others by using his knowledge in adhesives and coatings, and Chemsultants was born. Dad loved to solve problems and we have been converting customer issues into success stories ever since. It was natural to take face shields from an idea to a product, but it was so gratifying knowing that our customer this time are our friends and neighbors."
Sales of the Dispos-A-Vue face shield have been mainly to local hospitals and businesses. Word spread through the local chamber of commerce, safety council and newspaper. Manufacturing of the face shields have helped make it possible for employees of businesses in the Cleveland, Ohio area to safely return to work.
Disposavue.com was created to inform customers about the product and to sell to those not available to stop by the company's facility to purchase. The face shields are not only available to businesses that want to protect employees as they return to work, but also to the general public.
Faustel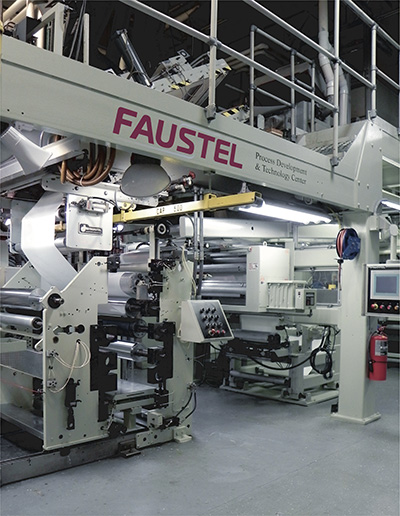 Faustel, a custom converting equipment manufacturer with a historic, global reputation for innovation, has risen to the occasion with the development of a virtual R&D environment, known as Tech Connect. This remote, online program allows product and process engineers to work in conjunction with Faustel's team to define machine specs, evaluate trial runs and collaboratively review results - all from the safety and comfort of their socially distant computer screens.
Tech Connect customers receive real-time videos of trial set-up and sample runs, physical trial run samples delivered overnight for evaluation, and online roundtable meetings at each critical point in the R&D process. For many product developers, Tech Connect allows them to eliminate travel expenses without sacrificing critical quality control oversight and collaboration between engineering team members.
Though going virtual isn't a permanent solution for every converting project, it can work well for simple coating chemistries, long sample runs, or for lamination, winding and cutting trials.
"We care about our team members. We care about their families. Now more than ever, we know that Faustel wouldn't be a success without this outstanding group of people," said Chris Clark, vice president of sales and technology at Faustel.
To help protect in-house staff and keep its customer's projects moving, Faustel took steps to establish social distancing, sanitize workspaces and make appropriate PPE available to its employees. With these safeguards in place, Faustel has continued to remain operational throughout the pandemic.

FlexFilms
FlexFilms, the global film manufacturing arm of India's largest multinational flexible packaging solutions company, UFlex Limited has a state-of-the-art manufacturing facilities at strategic locations across the globe including the U.S., Mexico, Poland, Egypt, UAE and India. The global polymer science player is expanding its worldwide footprint further with new plants coming up in Russia, Hungary and Nigeria.
The COVID-19 pandemic is a typical "black swan" event that has gripped the world since its outbreak causing commotion globally and forcing nations to declare a state of emergency and impose strict restrictions on business operations. Being in the business of supplying films for packaging of life-sustaining and essential goods like food and pharmaceutical products, FlexFilms USA had to rise to the occasion and implement a business continuity plan that allowed the company to run the plant and its operations without compromising on the health and safety of its personnel.
A COVID-19 Task Force was formed by the company in the initial days of the onset of the Corona virus and a series of policies and procedures were implemented upon, as per guidelines laid down by Centre for Disease Control, Occupational Safety and Health Administration, TEAM KY and Lincoln Trail District Health Department.
Keeping up with the advised safety norms for operating, the company reiterated previously established policies for hand washing (under cGMP) with hand washing solutions and agents that best suit the need of the hour.
To prevent any contact with the surface, FlexFilms USA facility has:
Installed touch-free hand sanitizing stations and arm door handles on high-use traffic doors to minimize hand touching;
Set up human disinfecting tunnels at the entrance;
Promoted social distancing in production sites as well as offices;
Provided the means for daily thermal screenings to identify if anyone has fever, cough or cold; and
Increased routine disinfecting frequency of high-contact surfaces such as door handles, restroom taps, office and operating equipment in every three hours. Third-party contractors have been brought in to disinfect high-touch areas in the plants to maintain a non-infectious area of work.
Recognizing the severity of the infection, all the personnel has been advised to refrain from handshake or any sort of contact with each other and cloth face coverings at production floor have been mandated.
To enable limited human interaction and make the environment even more secure, FlexFilms USA has:
Disallowed entry of visitors inside the facility;
Transport drivers have been instructed to stay outside;
Staggered shifts, whenever feasible;
Put a stop on all onsite training, interviews and gatherings; and
Sales, marketing and other office personnel have been encouraged to telework and have virtual meetings. Non-essential personnel have been asked to work from home until the situation gets better.
Daily communication with operators at the facility to reiterate the safety measures and check on their well-being; and frequent status update to its COVID-19 taskforce and leadership, is followed diligently.
The employees at FlexFilms have been provided with ongoing mental tips to aid in dealing with the pandemic and relieve anxiety such as limited social media time and exposure to news, not to isolate themselves and stay connected virtually, eating healthy, regular exercising and others. Constant advisory, on steps to prevent the virus and hotline details to seek advice on COVID related queries, is issued to all employees.
FlexFilms USA is also taking steps beyond the advised protocols, for preventing the spread of Coronavirus. The company has also reached out to a local hospital (Hardin Memorial Hospital) and medical facilities to offer support by working on means to provide PPE kits and face shields.
Despite the operational hitches, FlexFilms USA has been highly focused on meeting the surge in requirements of certain packaging material that has risen due to fear-mongering and stockpiling. It has continued its operations and supplies to its partner convertors and CPGs, even in the most difficult operating scenarios.
"The real character of a good business is to rise up to challenges and give solutions that envelope all its stakeholders," said Vijay Yadav, business head at Flex Films USA. "COVID-19 crisis is an unprecedented situation at hand and being an essential services business, it is our duty to make sure we continue serving our customers so that they can make products available to the consumers for daily use, especially during these turbulent times. We remain committed to be a reliable partner to our customers by supporting manufacturing and services from U.S. and USMCA, which our customers have come to expect from us and value!
"As a responsible organization, we are making sure that all our employees are safe and secure with the array of measures we have taken at our plant. We have invested substantially in increased costs related to materials, systems and protocols for much higher health & hygiene standards. We are proud that these significant investments are providing elevated levels of health and safety to our employees who are our front-line champions, providing essential films in food, medical and pharma to the society and the country."
Flexo Wash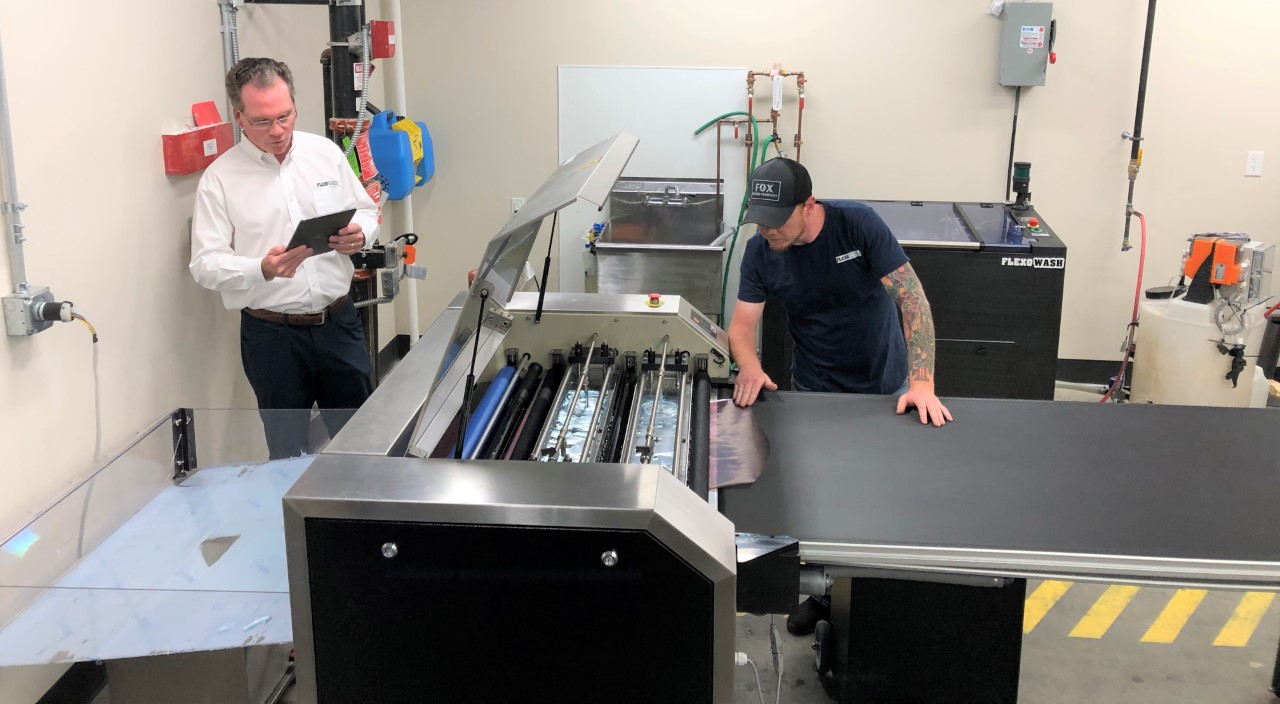 Flexo Wash provides leading cleaning solutions to all sectors of the label and package printing industry, with over 4,000 installations around the world. The Flexo Wash portfolio includes laser and liquid anilox cleaning, plate and plate sleeve washing, rotary screen cleaning technology, as well as the original parts washing machines.
Flexo Wash remains a key supplier to this essential industry and has reacted and adapted quickly to its customer's needs during the COVID-19 pandemic. Internally, after ensuring that all its employees were healthy, that its building and operations were clean and safe, and after suspending travel for all sales and service, Flexo Wash set out on the new normal of operating a fully-functional business during a pandemic.
Externally, Flexo Wash's customers were experiencing massive surges in demand and production needs, many with labor shortages. After communicating with customers, Flexo Wash maintained and ensured a steady inventory and supply stream to meet the industry's increased needs.
Flexo Wash serves converters and printers in the narrow web, wide web and gravure industries, which translates into meeting many different production needs across a wide spectrum. One commonality is the need to be as efficient as possible while keeping their quality optimal and production on target.
Flexo Wash President Patrick Potter realized this immediately, stating that, "the world doesn't stop" during a pandemic and customers "wanted to get up and running. They bought these systems for a reason and we quickly came together as a team to facilitate their needs."
Flexo Wash began a full campaign of virtual sales, service, installations and trainings all in lieu of the regular face-to-face meetings. These adaptations have been beneficial in the process, as it allows for continuous production, all while keeping employees safe.
Filmquest
Filmquest has been doing its part in helping to flatten the curve by implementing robust CDC training for maintaining proper hygiene and the use of PPE. "We've increased our awareness in how viruses spread and extended further precautionary measures while handling material, packaging and equipment in addition to frequent disinfecting of common high-touch surfaces," said John Felinski, president and CEO at Filmquest. "We've been working diligently to comply with distancing standards in the office and warehouse by directing traffic flows to one-way only, staggering breaks and lunches, encouraging work-from-home options wherever possible, discontinuing business related travel, prohibiting on-site visits and conducting frequent fever checks using touchless thermometers. "
To better accommodate demands within the industry the company has improved the availability of Questar® Polyester Film, increased its Quick-Ship products and donated PET film for use in face shields.
Most importantly, as an integral part of the food and medical supply chains, the company expanded operations with a fully functional facility, continuing to employ its entire staff, many of whom contribute to its success in a self-less way. In addition, each team member received a $2,500 COVID-19 payment to help with any family financial difficulties they may face during these challenging times.
"It is through continued relationships and collaboration with our suppliers, customers and team members that we are overcoming the spread of COVID-19 together," said Felinski.
Metlon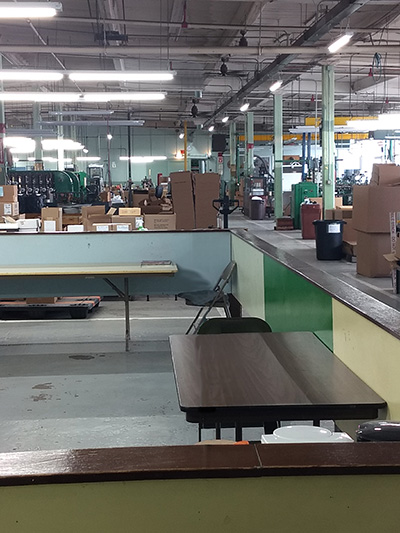 Cranston, R.I.- based Metlon Corporation specializes in precision, narrow width custom slitting of plastic films, paper, metal foils. The company is also an authorized distributor of the full line of 3M™ Scotchlite™ Reflective Material; ANSI/ISEA 107 Compliant materials included. COVID-19 is now the common denominator, demanding ramped up production and uniting what usually represents two distinctly different business segments and buyers.
Certified letters confirming some customers' classification as "essential" immediately converted the company's status to essential as well. From business transactions to medical diagnostics to PPE, Metlon's contract slitting and reflective material orders (which are used for the manufacturing of high visibility apparel and accessories), have increased significantly while the expectation/hope of turnaround time was to remain the same. In one case, a customer that has regular monthly releases increased its releases by an additional 50 percent.
From the outset, the company instituted new, high level cleaning protocols, from thorough cleanings each morning to stringent routines throughout the day and throughout the plant. Sanitizing doorknobs, railings and common areas are among the new chores. A more demanding regimen evolved with the mandated lockdown. The front office added a security peephole to pre-screen visitors at the locked interior reception room door; the shipping dock now requires a phone call in advance of every expected delivery. Planned pick-ups were re-routed; smaller packages to the front office reception area, larger packages and pallets to the loading dock, requiring a phone call followed by a horn to signal a door to open.
From the employees' perspective, the plant configuration remained the same because machinery was already positioned at safe distances, with wide aisles dividing the equipment and more than enough room for operators to perform their tasks. However, the lunch/break area layout needed modification.
Logically, the production schedule determines staffing levels. Multiple COVID-related "essential service" orders demanded that operators work overtime. Responding to the added inconvenience of uncomfortable masks, additional hours during this stressful time, and personal hardships of families, Metlon immediately decided to implement a temporary hourly pay increase to all employees.
Currently, overtime accomplishes Metlon's production goals, with productivity and total sales increasing as a direct result of the larger orders and longer runs. "Admittedly, an additional surge in demand from this pandemic may impact our staffing levels," said Wayne Etchells, president of Metlon.
Meanwhile, the company continues to schedule and run its pipeline jobs as usual, having adjusted to the changes thus far.
Mondi
Mondi has contributed material and processing expertise to produce plastic protective gowns for staff at local nursing homes and retirement facilities in order to help mitigate the spread of the COVID-19 pandemic in Germany. The first 100 of these disposable, single-use garments have been delivered to the regional district's Civil Protection Authority in Diepholz, who will oversee the distribution to facilities that need it most. Mondi plans to produce at least 10,000 further gowns in the coming months.
Creating the gowns has required the collaboration of three Mondi plants alongside partnering with local company Borgerding, who will assist in the assembly of the gowns. The process has involved Mondi Halle extruding a 750 mm-diameter polyethylene film tube that forms the body of the slip-over gown. Mondi Gronau is using its R&D Centre to extrude smaller, 250 mm-diameter PE tubes that will form the sleeves on the gown, and Mondi Steinfeld is converting the bodies and the sleeves. Borgerding is manually attaching and sealing the sleeves to the bodies of the larger tube.
"We're very pleased that Mondi could respond to this request and quickly devise a solution to help protect front-line staff and health care workers in the region," said Alfons Kruse, Mondi's plant manager in Steinfeld. "As a packaging producer, it involved creatively rethinking materials and production processes in order to make protective garments. Mondi's employees rose to this challenge to support our local communities and we are proud of their work."
PennPac
PennPac is a service-oriented distributor and supplier of custom slit flexible packaging films. The company works with converters, brand owners, co-packers and any business using flexible packaging films.
"Since the beginning of 2020, as COVID-19 has continued to impact our global community. PennPac leadership simplified a complex situation with its simple business model approach," said Bill Palmer CEO and president at PennPac.
Ensuring PennPac can always provide customers with quick access to film has been a fundamental part of its business model for years. Facilities are stocked with a board range of films and products coupled with an in-house slitting department to address planned and unplanned customer requirements.
"Our job at PennPac is to make sure the customer never feels the impact of a supply disruption. Whether it be a delayed shipment or Coronavirus, we do our best to make sure the customer doesn't experience that impact," said Palmer.
PennPac's success in managing the impacts of the COVID-19 pandemic are in part, directly related to years of superior compliance practice with all applicable parts of FDA 21CFR/cGMP requirements.
"PennPac maintains the highest standards of employee and customer food product safety, regardless of unprecedented dynamics like COVID-19," said Rob Tiller, director of operations at PennPac. "By providing employees with vulnerability education and effective leadership, particularly during early days of the pandemic, the entire PennPac team prioritized its essential position in the packaging supply chain and charged ahead."
With the integral support of its strategic raw material suppliers, PennPac plans to continue to provide food and pharmaceutical manufacturers the flexible packaging films required to satisfy increased demand during these unparalleled times.
Simco-Ion
Simco-Ion has remained dedicated to helping customers solve new daily challenges. Proudly supporting critical businesses with the crucial parts they need to quickly and safely manufacture more, The company has been delivering when speed, accuracy and safety is critical in manufacturing processes.
Whether static is needed in the process, such as in non-woven mask manufacturing, or static neutralization is required for thermoforming or converting plastics for medical devices and packaging, Simco-Ion has pivoted to meet the increased and changing needs of many industries and applications. Ramping up production to ensure its customers' tight deadlines are met has enabled the company's customers to better deliver core products to the marketplace, as well as helped other customers change over production lines and quickly step in and start to produce essential items.
"While we may not be able to meet many face-to-face, Simco-Ion is committed to its customers," said Kevin Coldren, national sales manager at Simco-Ion. "We remain available for virtual meetings and video assessments of production lines to keep them running safe and efficiently."
Sonic Solutions
From a staffing perspective Sonic Solutions has implemented precautions with PPE and an abundance of hand sanitizers as well as clear social distancing protocol among staff to keep its employees safe while working during the COVID-19 pandemic. Redundancies in staffing functions have been put in place. No staff have become ill as of this date, but these redundancies will prevent any interruption of services if any should. Sonic Solutions plans to support any staff member who becomes ill in any way possible.
Sonic Solutions knows that its customers are direct essential businesses that support the food, medical and prescription industries. As such the company is committed to providing its products in the quickest manner possible so that its customers can continue in supporting other companies. Sonic Solutions has committed to increasing inventory levels of equipment and consumables to further this cause. With the exception of custom-made equipment Sonic Solutions strives to have sufficient inventories to be able to ship product within 24 hour of receiving orders.
Sonic Solutions can confidently assure customers that all products, parts and sub assemblies provided are built in and sourced from companies within the U.S. Additionally it has made a point to put in place redundancies in sourcing to again assure a steady and reliable flow of quality products. What does that mean? No reliance on foreign sources for products, quick turn around on orders, repairs done in house to assure a quick return to productions and loaner equipment available to remain operational.
Sonic Solutions has a long tradition in supporting charitable organizations within the community. In these most trying of times the company continues its support of these organizations with increased emphasis on those directly affected by the current COVID-19 environment.
TAKK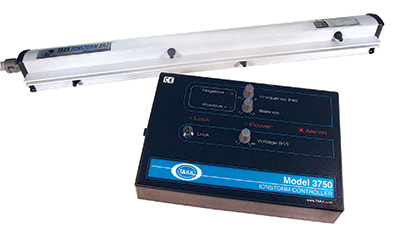 The COVID-19 pandemic has necessitated numerous producers of PPE, N95 Masks and sanitizing supplies to call on TAKK Industries to provide static elimination and static generation expertise and solutions, partnering with companies to support the fast-moving dynamics of PPE manufacturing.
As an essential part of the domestic and international supply chains, TAKK Industries' static elimination and generation solutions have been vital to maximizing productivity and machinery uptime for multiple industries such as food, medical and beverage producers that are involved in converting, printing, packaging and labeling.
"TAKK has been proud to have the opportunity and be able to continue to play our roll in working hand in hand with PPE equipment producers and other converting, packaging and manufacturing to ensure that critical supply chains have the needed static control and generation solutions for optimal manufacturing" said Joe Overman, president of TAKK Industries.