Published: May 13, 2020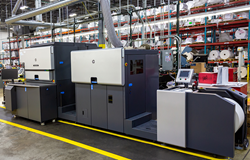 Diversified Labeling Solutions (DLS), a national converter of pressure-sensitive labels, announced it is expanding its digital printing and finishing capabilities with the addition of an HP Indigo 6900 Digital Press and a Grafotronic DCL2 Modular Digital Finisher.
The HP Indigo 6900 and Grafotronic DCL2, installed at the DLS facility in Itasca, IL, will run alongside an existing fleet of over 25 digital and flexographic presses. The new equipment allows DLS to expand its production of digitally printed labels and flexible packaging, including small to medium-sized print runs, variable imaging, and brand protection features. With its superior image quality and fast production time, the HP Indigo 6900 will also augment DLS' prime label and packaging offerings. The Grafotronic DCL2 provides a wide array of label embellishment and finishing options allowing DLS to provide highly customized label options for customers.
"As a label industry leader, DLS is continually investing in state-of-the-art technology that helps us serve our customers," says CEO Jim Kersten. "Our customers look to us to provide quality labels with fast turnaround times, and this equipment will help us continue to do that. The HP Indigo 6900 and Grafotronic DCL2 increase our ability to provide digital printing with superior print quality and excellent color matching along with an array of finishing options."
The HP Indigo 6900 supports a range of media including synthetic and paper substrates from 0.5 to 18 pt. It can reach up to 97 percent of PANTONE® colors as well as specialty and mixed inks. And HP's proprietary Liquid Electrophotography technology delivers crisp, high-resolution printing that mirrors the gloss and texture of the media.
The Grafotronic DCL2 Modular Digital Finisher is ideal for post-press finishing and die cutting. This adds capabilities such as: varnishing, spot varnishing and color, lamination, cold foil application, semi-rotary die-cutting, and slitting to digital production runs. The Grafotronic will increase efficiencies and allow DLS to run all of its digital presses at higher speeds.
"Bringing in this new equipment allows DLS to offer its distributors new market opportunities such as cannabis labels that require strict registration and small print, to smaller runs, and flexible packaging for non-food related products. In existing markets, there is big advantage in resolution and a wider color gamut allowing DLS to offer accurate, extremely high quality labels for current applications". Says James Cirigliano, VP Marketing.
For more information, visit teamdls.com.