Published: June 12, 2019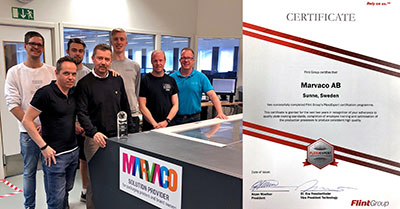 Marvaco's plate making unit in Sunne, Sweden, has successfully concluded the final audit of Flint Group's FlexoExpert certification program with a global top score.
"Marvaco got one of the highest scores a repro house can get as first time qualification," said Friedrich von Rechteren, global commercial vice president, Flint Group.
The other Marvaco sites are following in the certification process. During a six-month process consisting of three main steps – evaluation, implementation and training, and auditing – FlexoExpert provides the means by which plate makers can further optimize their workflow to make more reliable and consistent plates. During the last half a year Marvaco implemented the program and passed the final audit with a top score. Marvaco's three plate making sites in the Nordic countries are going through the standardization program of the flexo platemaking process.
"Most of the colleagues have contributed to this success, but the main and most dedicated work is done by the plate room personnel as they have adapted this into our ordinary quality processes," said Jan Viberg, general manager of Marvaco Sweden. "We are naturally very proud of the result. We have always heard from our suppliers that our unit in Sunne has high standards in flexo plate production and we are very happy that this now has been officially verified. The FlexoExpert programme will be used as our common platform to get the same level of standards across our plate production units".
For more information, contact This email address is being protected from spambots. You need JavaScript enabled to view it..