Published: April 19, 2019
H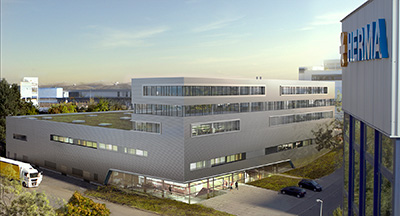 ERMA GmbH, a provider of labeling machinery and self-adhesive labels and materials to the global packaging marketplace, has moved its Labeling Machinery Division to a new facility at its headquarters site in Filderstadt, Germany. Reportedly a necessary response to recent growth and rising demand, the new plant plans to incorporate a more modern, streamlined production layout for maximized manufacturing efficiency.
The move also concentrates each of HERMA's divisions – self-adhesive materials, labels and labeling machines – in one location.
The latest facility expansion design encourages minimal throughput times via optimal access in the production area and, in preparation for continued growth, assembly stations are equipped to be double-staffed as needed.
The manufacturing centralization also serves to better support HERMA's self-adhesive technology efforts. The company is currently constructing a new coating plant for self-adhesive materials directly adjacent to the labeling machines facility. The new site is scheduled for completion in Fall 2019.
"The new facility reflects HERMA's rapid growth as a result of manufacturing success while positioning us for future expansion," said Martin Kühl, head of HERMA's labeling machines division. "All workflows are optimized with regard to ideal communication, minimal throughput times and maximum manufacturing excellence."
For more information, visit www.herma.us.