Published: April 18, 2019
T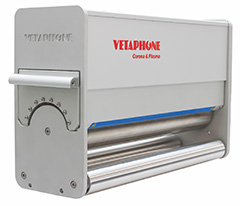 he new C8 Corona treatment station from Vetaphone is designed for substrates and applications where high Corona power is required from a single unit. The new unit is fitted with eight high-power and high-efficiency ceramic electrodes, allowing more Corona power to be discharged from a compact modular system suitable for today's demanding materials. Vetaphone's industry-leading technology is further enhanced with the robust design of the C8, which in addition to being 24/7 corrosion proof, has enhanced maintenance-friendly features to place it firmly in the next generation of surface treatment.
"Converters' needs for simple Corona treatment are well catered for," said CEO Frank Eisby. "We have designed the new C8 for the increasing number of demanding applications. Many of the new substrates have a more complex chemistry and consequently require higher power Corona treatment to achieve the necessary Dyne level. The C8 applies more Corona power per square metre on the modern presses that are adapted to run these challenging materials."
Having eight electrodes in the unit means the C8 can apply high power Corona at high running speeds. Available in web widths from 14.25" to 22.5" and capable of treating at speeds in excess of 985ft/min, the new C8 Corona Treater, which is both CE and UL approved, has reportedly already found a market in the digital printing sector.
For more information, visit www.vetaphone.com.