Published: March 14, 2019
M
atthews Marking Systems has launched a new product line focusing on OEM customers that want to integrate marking and coding equipment into their machines. The products included in this line are an automation software controller, an enclosed drop on demand (DOD) valve jet technology driver and an enclosed thermal inkjet (TIJ) technology driver.
Because MPERIA is the only universal controller designed to work with any print technology, OEMs can change the printers on the line per their customers' needs. One customer might choose a TIJ-based system because of its low capital cost or an application- based need for high resolution codes while another might want valve jet DOD because they want the unprecedented reliability and lower cost-per-mark. All products in the OEM line are more compact than standard products of the same capabilities.
The automation software controller, the MPERIA OEM Controller, is a production line controller ideal for OEMs controlling printers while utilizing their own user interface. The MPERIA® OEM Controller is available in three individual models: Lite, Standard and Advanced; each with its own set of capabilities. All variants of the controller can be remotely managed via VNC and integrated by the end user with either XML or Command Line Protocol.
T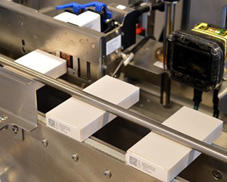 he enclosed drop-on-demand (DOD) valve jet technology driver, the V-Link OEM, controls Matthews' 8000+ valve jet printheads. The 8000+ series delivers low ink consumption with high print quality, producing an unparalleled low cost-per-mark. The V-Link OEM is small and compact, making it easily configured into tight spaces on the production line.
The enclosed thermal inkjet (TIJ) technology driver, the L-Link, is a driver module for up to four of Matthews' L-Series L1 printheads. The L-1 printhead is a unique 600 DPI high-resolution cartridge-based thermal inkjet system, that has the ability to print a very high quality 12.5mm (0.5") mark at extreme speeds of 480 m/min (1600 ft/min). The small cartridge-based system provides a compact and clean solution with minimal maintenance.
For more information, visit matthewsmarking.com.