Published: February 05, 2019
G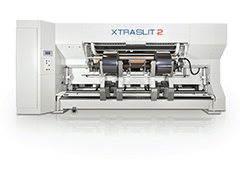 OEBEL IMS, one of the world's leading manufacturers of slitting and winding solutions, announced the opening of a new branch office in Vadodara, Gujarat/India. The globally renowned brand of the IMS TECHNOLOGIES GROUP, has reportedly been recording an increase in international orders across all industries for many years – a significant share coming from the Indian market. With its new branch, GOEBEL IMS strengthens its group's long-term go-to-market strategy while being able to better serve a broader geographic area.
The new branch office will be led by Sunil Prabhakar Ghanekar. He brings his extensive experience of 35 years in the industrial film and flexible packaging manufacturing and converting business to his role. Ghanekar and his team of service and sales engineers will be operating from their new office in Vadodara in the State of Gujarat.
"We are very pleased to set this new milestone in the Indian market together with our highly esteemed sales and services expert team. Ghanekar has the know-how to represent our cutting-edge innovations, tailor-made solutions and high-quality services. With him we are looking forward to expanding our market position," said Daniele Vaglietti, managing director sales and marketing of GOEBEL IMS' parent company IMS TECHNOLOGIES GROUP.