Published: October 14, 2018, By Christine Pietryla Wetzler
CHESTERFIELD, MO |
PRX Print
is a unique label converter, founded in 2010, this Canadian company has been providing full-service packaging solutions to customers across virtually all industries. They carved their niche as a print broker offering clients "one stop packaging shopping" – printed labels, forms, boxes and shrink sleeves. Additionally, they provide marketing agency-type services such as graphic design, packaging consulting and support services such as trade show and product rollout programs to support branding strategies.
Due to increasing demands, printed labels became a larger part of the PRX Print product mix and the company was experiencing aggressive growth in demand for cost-effective, short-run digital labels with fast turnaround times. Trends toward "just in time" ordering, small-quantity, multiple-version printing, coupled with often-changing label regulations and the need to contain costs, were key factors in driving this growth.
As a brokerage, PRX Print had limited control over the production process and timelines, illuminating an opportunity to leverage these trends with the ability to offer extremely fast label printing turnaround times. To maximize profitability and increase customer satisfaction, Debbie Gilbert, the owner of PRX Print, began the search in early 2017 for an in-house, leading-edge label printing solution that would empower her team to meet the stringent demands of her customers. Gilbert notes, "We recognized a need for fast turnaround times and high-quality finished products, and we decided to gain control over this aspect of our business."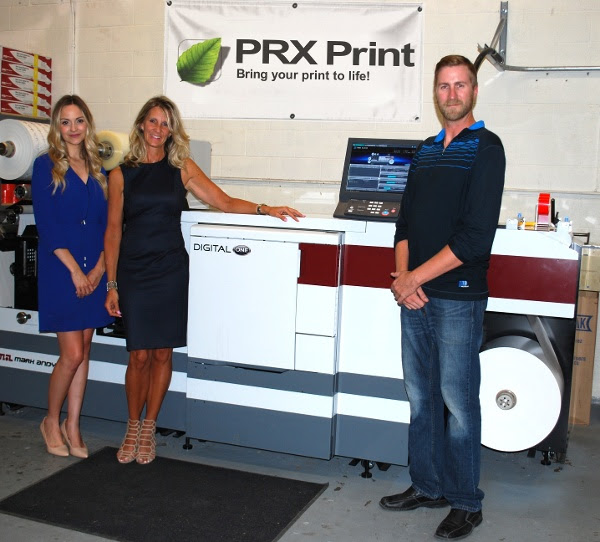 Gilbert researched a variety of digital label printing technologies and product offerings, and her search led her to the recently launched Mark Andy Digital One hybrid label press. Within a short time, it was clear that this press would be the key to fulfilling her need for an entry-level digital machine to produce high-quality, affordable prime labels for PRX Print's growing client base.
Key features that drew Gilbert to the Digital One were the "pay as you go" no-click-charge structure, its small, eco-friendly footprint with minimal waste, the toner-based technology and its all-in-one (printing and diecutting) functionality. In contrast to inkjet digital presses, the Digital One's dry toner technology fuses ink right into the label substrate, ensuring maximum print adhesion and durability. Gilbert knew this was key for food and beverage labels, a market PRX Print specializes in.
Additionally, the hybrid feature means the Digital One has a flexo print station that can be used for embellishments such as cold foil, spot colors, varnishes and laminations. Finally, the flexibility of the Digital One to print small-run, multiple-version high-quality labels with inline diecutting was perfectly aligned with PRX Print's core goal to penetrate that market opportunity. Gilbert noted, "We looked at other presses on the market and nothing compared to the Digital One in terms of balancing features, cost and quality. The Mark Andy solution meant we didn't need to make an additional investment in separate diecutting equipment. I also knew the Mark Andy reputation in the printing industry was exemplary."
When their Digital One was delivered, Debbie and her team received training at their facility in Mississauga, Ontario. One week later, they received an urgent request from one of their long-time customers in the fresh produce industry.
"A couple of days after training, one of our customers called us in a panic. He had a truckload of fresh blueberries that had arrived in clamshells without labels. If he didn't get them labelled within 24 hours, they'd go to waste. Had we been still just a broker, we wouldn't have been able to help him. But I told my customer, "We can do it!" Our in-house graphic designer came up with a design based on a photo the customer provided, and it was approved and printed within hours and the entire order was delivered the following morning. That was the first job for our Digital One. Could I have done that before? No! It's been very empowering to assist customers like this ever since. I still have the first two blueberry labels that came off our press framed on my desk as a reminder," says Debbie Gilbert.
With the just-in-time expectations common in today's retail landscape, a press with the capability of meeting same-day demands is exactly what PRX Print needed, and their new Digital One label press has proved worthy in meeting and exceeding those expectations. Since the blueberry success story, PRX Print has been able to support many clients with same-day printed samples for new product launches, small batch labels for color testing and provide same- or next-day custom label design and printing on an ongoing basis with the entry-level digital hybrid machine.
Hard work, consistency and determination, coupled with what Gilbert calls "a phenomenal team of employees" with a high level of knowledge, friendliness and competence, are what have grown PRX Print's business. The company was already experiencing aggressive growth in sales and profits prior to acquiring their Digital One, growing by over 45 percent in 2016 and over 25 percent in 2017. But in 2018, Gilbert projects their business growth at more than 50 percent over 2017, primarily due to their new in-house printing capabilities and customer responsiveness.
Gilbert already has her eye on additional opportunities to expand the label manufacturing side of her company. PRX Print plans to tap into the Digital One's label embellishment features such as decorative cold foils and spot varnishes, and she sees advanced, inline decoration as an avenue for revenue growth, with the potential addition of a new production-level digital asset in 2019.
Bridgette Bridges, digital product advisor, Mark Andy, worked with Gilbert and her team on their journey to bring label production in-house. Bridges had this to say, "Debbie and her team at PRX Print left no rock unturned as they evaluated the Digital One as their first press. She and I also spoke at length prior to the delivery of their machine, as she was fervent in her quest to gather as much data, training and information as possible to best prepare her to transition from brokering to in-house label converting. Ultimately, Debbie is a great example of what being a business owner is all about. She knows her stuff, and her success with the Digital One as an entry-level print solution proves that. I am excited to see what's next for them and to work together in the future."
A customer-centric agency, open to new technology and expanding their portfolio of in-house offerings, PRX Print has a bright future in their role as a label manufacturer. With the Mark Andy Digital One, the ability to say "yes" to same-day requests is growing their business at a record pace.
COMPANY CONTACT