Published: September 04, 2018, By Christine Pietryla Wetzler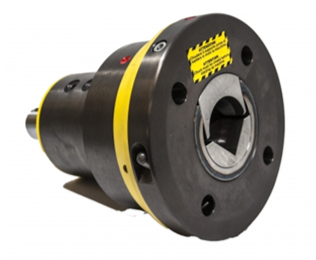 Beacon Falls, CT | New Era Converting Machinery relies on Goldenrod expertise in multi-bladder shaft and safety chuck technology.
"We have had great success utilizing the Goldenrod safety chucks and shafts," says Paul Lembo, executive vice president of New Era. "In addition to handling some of our more challenging, custom chucking applications, Goldenrods' line of standard products are widely used on our unwinds and winders."
The multi-bladder shafts are designed to New Era's customers' exact specifications. New Era has also incorporated Goldenrod's New Model 926 Safety Chuck design.
Conventional safety chucks have a closing ring made from cast steel which creates metal dusting and premature wear. The new Goldenrod Model 926 has a forged steel closing ring and a machined steel cam that ensures positive, guaranteed closing and longer service life. The Chuck has a redundant push button on the left and right side of the closing ring making installations simple with easy operator access. The redundant lock system is perfect for turrets.
The Model 926 is an upgrade to the older Model 927 Safety Chuck but has the same mounting dimensions for those customers that want to upgrade. It is available in light, medium and heavy-duty foot and flange mount profiles.
Socket inserts are replaceable and are designed to ensure long shaft journal life. They are available in either "V" square shape for easy loading or the popular "VO" square/round shapes for smooth and quiet rotation at high speeds. The chucks can be disassembled easily with a hex wrench.