Published: June 18, 2018
CAMBRIDGE, UK | Xaar and its OEM partner, MapleJet, announce the Xaar 502 GS15 O inkjet printhead, said to provide larger print height and industrial robustness in the latest MapleJet ProDigit 70 printer.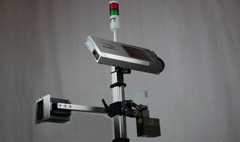 TIJ (Thermal Inkjet) printheads used for coding and marking onto corrugated boxes are disposable. Over a two-year period, this can mean the disposing of over 650 printhead cartridges (in a typical use case), wasting resources, time, and money in replacement, company says. Reportedly, the industrial design of the 502 GS15 O printhead ensures the MapleJet printer only uses one printhead throughout the same period and beyond (because Xaar's inkjet printheads are not disposable), significantly reducing the environmental impact of coding and marking onto corrugated boxes.
The printhead also enables a significant increase in print height in comparison to TIJ printheads, with a maximum print height of 70 mm (2.75 in.) to 180 dpi available. With its suitability for porous substrates, the MapleJet ProDigit 70 printer is capable of printing at a maximum line speed of 58 mpm (197 ft), delivering quality codes for the fastest production environments.
MapleJet CEO Homayoun Shahrestani says, "The MapleJet ProDigit 70 is the latest printer in the ProDigit range, and it raises the bar in terms of quality, reliability, and sustainability. It is the ideal choice for companies looking to replace their carton label printers as it can print high-resolution codes directly onto cartons and operate at [high] line speeds, all using the one Xaar 502 GS15 O printhead, thereby significantly reducing waste compared with TIJ-based systems."
The MapleJet ProDigit 70 printer is available with a 500-ml ink system and will shortly offer a 1-liter bulk ink system solution, meaning operator intervention is significantly reduced. Its retracting module is said to ensure print quality on production lines where consistent product placement cannot always be achieved.
The printhead utilizes Xaar's latest piezoelectric drop-on-demand bulk technology actuator design, PrecisionPlus, which reportedly provides a long throw distance and increases stability and robustness of the printhead. Combined with the optimized nozzle guard to support automated maintenance routines, this printhead is ideally positioned for use in demanding and harsh factory environments, says company. Also incorporated into the Xaar 502 is Xaar's TF Technology, which can be run in full through flow mode or pulsed mode. This optional pulsed mode recirculates ink behind the nozzles during non-printing periods only, ensuring increased reliability, excellent performance, high energy efficiency, and market-leading printhead lifespan. PrecisionPlus and TF Technology are said to enable fully optimized actuator performance supporting printing in multiple orientations, such as skyscraper (vertical printing) mode, delivering high drop volume as well as accurate drop placement for exceptional print quality, good contrast on dark surfaces, high speed of print and excellent reliability.
This email address is being protected from spambots. You need JavaScript enabled to view it.
This email address is being protected from spambots. You need JavaScript enabled to view it.