Published: June 06, 2018
BAIERSBRONN, GERMANY | mprint gmbh, a manufacturer of digital UV inkjet printing equipment with its North American sales and service organization—mprint LLC—based in Charlotte, NC, recently announced two new products to close the gap in its narrow web machine portfolio: the mjet 4c multicolor print engine to be retrofitted to existing equipment such as flexo machines, and the mlabel compact, a lower cost, smaller footprint UV inkjet press with integrated converting.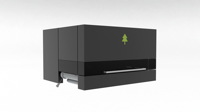 Like the flagship UV inkjet hybrid press mlabel Gen3, the mjet print engine is built based on the Kyocera KJ4A print technology with a native resolution of 600 dpi and four grayscales and includes automatic printhead cleaning as well as mprint's trademark ink recirculation to minimize ink waste used during the head purging process.
The mjet print engine is available in various widths, however, company says most applications will be for existing equipment with 10- or 13-in. print width. This technology reportedly allows the owner of a flexo press to turn it into a true digital hybrid at cost well below a new machine. The unit can also be integrated into any other OEM converting equipment, booklet, or extended content label machines, packaging lines, etc.
This email address is being protected from spambots. You need JavaScript enabled to view it.