Published: May 29, 2018
MENOMONEE FALLS, WI | Glenroy Inc., a converter and printer of flexible packaging for more than 50 years, was presented with four awards for expertise in flexographic printing in the Great Lakes Graphics Assn.'s 2018 Graphics Excellence Awards competition.
An affiliate of Printing Industries of America, GLGA states that the Graphic Excellence Awards is the largest regional affiliate print competition in the U.S. and is intensely competitive. The Graphics Excellence Awards program recognizes companies for superb craftsmanship in the design, creation, and production of top-quality printed materials.
Glenroy won "Best of Category" awards in the category of "Flexo – Wide Web, Process" for Joico Color & Intensity Eraser and in the category of "Special Innovation Awards – Other" for Rejuvenate Marine – Mildew Stain Remover. Glenroy was also awarded two "Awards of Excellence" in the category of "Flexo – Wide Web Process" for Pulp Riot Powder Bleach Lightener and in the category of "Print/Graphic Arts Self-Promotion" for a Glenroy-Wikoff promotional stand-up pouch.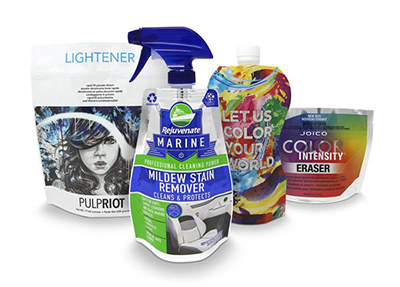 Each entry in the competition was judged on its own merit in a category with similar printed pieces. The judging criteria included registration, crossovers, clarity and neatness, sharpness of halftones and line drawings, richness and tonal qualities of color, difficulty of printing, effective contrast or softness, and overall visual impact.
"We are honored to receive these printing awards from GLGA," said Rich Buss, president and CEO. "It keeps us motivated to continually improve our printing capabilities."
To date, Glenroy has won more than 100 printing and industry awards.