Published: April 06, 2018
SWAVESEY, CAMBRIDGESHIRE, UK | Industrial Inkjet Ltd. (IIJ) will be featuring its inkjet printing of wallpaper at the Pure Digital show at the RAI Centre in Amsterdam, the Netherlands, April 17–19. Experts from company will have a core part of its machine on display, as well as a full range of samples on various standard wallpaper media. Its stand will feature a mural wall image to show what company says is the extraordinary capability of this new technology.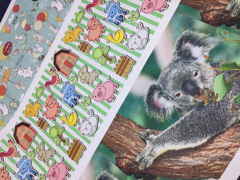 Attendees will be updated on company's development of a full-speed industrial wallpaper-production capability using digital technology developed in collaboration with partner Konica Minolta. The solution reportedly competes with conventional printing methods on productivity, print width, speed, ink performance, and cost-per roll.
An example of a mural-wall image printed nonstop with no gaps will be part of the IIJ stand backdrop. Prints coming off its system are not restrained on image length and involve a wide range of typical wallpaper media, including paper, PVC, and nonwoven (coated and uncoated)—all printed at high speed. Click here to see a video on digital wallpaper production.
John Corrall, founder and managing director of IIJ, says, "Pure Digital in Amsterdam will be an important opportunity to show our progress. Our system is not just for low-volume mural applications, but we believe it makes digital print accessible and economic in high-volume mass production wallpaper production. When replacing older technology the performance and cost are always key, but after that what defines how well the new technology is accepted is what you can do with it—what new abilities does it have and what opportunities does this give the user. We see Pure Digital as a way for us to contact wallpaper designers and other creatives and let them see what this can do for them. We hope to spark a real revolution in the décor market."
IIJ is the official sales and technical support center for Konica Minolta inkjet printheads outside of Asia.