Published: March 19, 2018
GORHAM, ME | Montalvo, international specialists in web tension control, announces its newest product offering, Axial Activated Core Chucks. As part of its Defender Series Core Chucks, the new core chuck is designed for shaftless unwinding and rewinding applications requiring maximum roll/core gripping and/or utilizing floor pickup.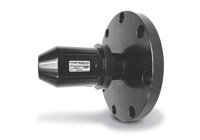 The Defender Chucks, sometimes referred to as lug chucks, are said to be cost-effective, rugged, and durable core chucks capable of withstanding even the dustiest environments while being simple to utilize. An exclusive "safe lock" model expands the capabilities of the AA core chucks even further by resolving any potential risk of the core not fully tightening and ensuring the roll is always perfectly concentric. Cores are engaged as a result of radial lug expansion as the core is loaded into the chuck, ensuring maximum grip so you can Achieve More.
Bryon Williams, Montalvo's director of sales and marketing, says, "Our new axial activated chucks and total Defender series of core chucks gives our customers a superior product offering in performance, quality, cost, safety, and service life. Axial activated chucks are a cost-effective way to "defend" against core damage, extending their service life while maintaining the highest levels of safety. The drop-in replacement design ensures no additional installation requirements for customers looking to upgrade their current core chucks.
Additional DAA Core Chuck features include the following:
Rapid Expansion Jaws ensure secure roll control immediately upon engagement
Dual Core Models for processes utilizing multiple core sizes—one chuck, two core sizes
E-Flange Option eliminates operator interaction in removing cores while reportedly making core ejection fast and easy, reducing risk of jammed cores
Photocell Ready Option allows use of photocell or other sensors
Customer-Specified Mounting Holes—ready for immediate installation upon delivery
Several Finishes Available—Black Oxide standard, Nickel Plating optional
Drop-In Replacement Design for easy upgrading of existing installations
This email address is being protected from spambots. You need JavaScript enabled to view it.