Published: March 01, 2018
CHEVY CHASE, MD | RadTech, The Association for UV & EB Technology, says Printing and Packaging, and the use of ultraviolet (UV) LEDs and electron beam (EB) technology will take center stage at RadTech 2018, taking place May 7–9, 2018, at the Hyatt Regency O'Hare in Rosemont, IL.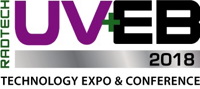 With a comprehensive lineup of presentations—topics include Nestle Compliance, flexo, inkjet, low migration, BPA alternatives, water-based materials, adhesion, and adhesives, the conference reportedly has more educational sessions than ever. The global UV+EB event is said to offer a complete package of presentations, networking opportunities, and more than 70 exhibitors for attendees interested in using ultraviolet and electron beam technologies.
For the first time, RadTech is building an exhibit theater on the show floor to expand educational opportunities. The exhibit theatre allows the organization the opportunity to offer attendees an open forum of panels and presentations on the practical implementation of UV+EB technology.
Newly added theater sessions include the following:
Trends in Inkjet/Digital Printing
The Future of UV-C LEDs
UV LED Chemistry
Food Processing and Disinfection
UV LED Mythbusters
This email address is being protected from spambots. You need JavaScript enabled to view it.