Published: February 16, 2018
BRIZEN, ITALY | Durst, manufacturer of digital production technologies, and OMET, a manufacturer of printing and converting machines, have strengthened their collaboration with the introduction of the new OMET XJet. Powered by Durst, the integrated hybrid solution for a wide range of high-performance labels and packaging printing guarantees flexibility and cost savings.
The XJet is the new hybrid printing platform integrating Durst's Tau 330 digital inkjet system with OMET X6 flexo stations and converting units. It reportedly can offer an unlimited flexibility and a wide range of final applications with a consistent cost reduction, thanks to the in-line multi-process configuration. Durst inkjet technology together with OMET X6's finishing and converting units including cold foil, hot foil, lamination, varnishing, die-cutting, and slitting, assure reliability and excellent results at every run, company says, with the advantage of obtaining the final product in one single passage.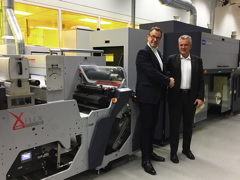 The OMET XJet is powered by Durst Tau RSC, the high-performance UV inkjet printing press featuring a 330-mm (13-in.) print width with maximum print speed of 78 linear mpm (245 fpm) at a resolution of 1,200 x 1,200 dpi. Features eight color stations (CMYK+W+OVG) with newly designed high pigmented inks and is said to deliver outstanding print quality with 98% Pantone color gamut coverage.
Flexible configuration of the hybrid solution is said to broaden the opportunities for label printers. It can be seen as three presses in one as it can be used as hybrid solution, flexo stand-alone, or digital stand-alone according to the length of the run or the level of personalization required.
Helmuth Munter, segment manager labels and package printing at Durst, says, "We are very pleased to partner with OMET in the launch of this highly professional hybrid printing solution. It combines the best technologies of both, the digital inkjet printing and conventional pre- and post-press printing and finishing world, offering our common future customers a highly cost-effective and complete 'all-in-one' printing process."
Adds Marco Calcagni, OMET sales and marketing director, "We managed to create a complete made-in-Italy printing solution that meets the market trends of personalization, just-in-time deliveries, and final product variation, while also maintaining all the capabilities of a conventional press. I believe that Durst is the right partner for such a challenging project, because they have deep knowledge and the best digital inkjet technology acknowledged by the international market."
This email address is being protected from spambots. You need JavaScript enabled to view it.