Published: February 01, 2018
BARRINGTON, IL | Grafotronic offers the Wasberger FALC 350/450/550 high-speed, roll-to-sheet film and label cutting machine for digital printing. Company says the machine provides easy setting and accurate cutting, can be integrated with other roll unwinding systems or machine, and can handle self-adhesive material and film.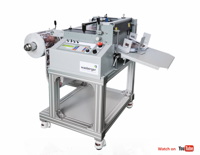 Technical specifications are as follow:
Cutting type: Cold Knife
Cutting method: Sensor cutting and Length cutting
Cutting material width: 350 mm, 450 mm, 550 mm
Cutting speed: 290 cuts /350, 250 cuts/450 and 100 cuts/550
Cutting length: 1 ~ 9999.9 mm
Cutting length display: key-pad input and LCD display
Power: AC 220V 50/60Hz
Unwind roll diameter: max 450 mm.
This email address is being protected from spambots. You need JavaScript enabled to view it.