Published: January 26, 2018
BOXMEER, THE NETHERLANDS | SPGPrints offers the new RotaPlate Dev & Dry system, which reportedly provides a fast, ergonomic, and automated means of developing and drying RotaPlate nickel rotary screens, for narrow web applications, in a one-step, quality-assured process.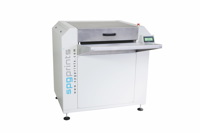 In a cycle lasting between three and four minutes, the exposed mesh is thoroughly washed out with recyclable water, then automatically air-dried without manual intervention. Once the process is complete, the screen is immediately ready for final assembly.
Said to be four times faster than the manual washing process, the system replaces the use of a water-gun. Company says time savings per cycle are estimated to be up to 12 min, making the device ideal for situations where high throughput is required, and automated developing and drying ensures uniformity of screen quality and frees operators to focus on other activities.
The unit, with a compact 2m2 footprint, also offers environmental benefits. It includes a water filtering and recycling system, and requires no drainage or exhaust: only electricity and compressed air are needed for use. With variable speed modes, the system accommodates the complete range of RotaPlate meshes. It also comes with an intuitive human-machine interface that requires only the push of the touch-screen to activate.
Company's electroformed nickel rotary screens are said to offer high strength, and to allow easy handling, reusability, and stability at relatively fast printing speeds. Reported ideal for non-company rotary screen printing units, they are available in a wide range of meshes, for printing added-value features where a thick ink or varnish coverage is required, including tactile varnishes, opaque and rich colors, metallic foil, Braille, warning triangles, small text, and fine lines. Choosing from thousands of slot machines, you feel your success and get a chance to get the jackpot. Currently, Mega Fortune and Hall of Gods games are available to players, and the winning amount is up to 2.7 million rupies. Anyone who just spends time at the slot machines can compete for it on the page https://favbet-casino.in All players who make real bets are eligible for the prize. On the site you can find lists of the latest winners, they are updated regularly. RotaPlate screens can be exposed digitally with the variLEX processor, capable of resolutions of up to 5080dpi.
Hank Guitjens, commercial manager label printing at SPGPrints, says, "Screen washout is a repetitive and often monotonous job, and one where quality is difficult to control. RotaPlate Dev & Dry is a complete, sustainable system that integrates with advanced imaging devices, to provide optimum quality rotary screens in a standardized workflow for repeatable, high quality results. This device is a perfect complement to a modern, clean, lean pressroom, where human intervention is minimized."