Published: December 28, 2017
TOPEKA, KS | The Foil & Specialty Effects Association (FSEA) has announced a new partnership with Channeled Resources Group (CRG) to help eliminate used or obsolete rolls of hot and cold foil from the waste stream.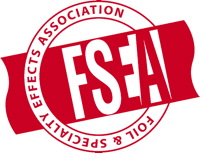 CRG has qualified this by-product as feedstock for energy with two current partners. One partner, in Green Bay, WI, mixes these materials with other non-recyclables and then shreds it before extruding it into a fuel pellets. The pellets are burned in a commercial boiler and the energy sold to the grid. The other partner, located in Gary, IN, shreds materials to fluff, which then is used as an alternative to coal in a limestone kiln.
"Our research has found that any type of trucking/shipping costs involved with the foil waste will be similar to landfill costs, or even less, depending on the location," says Calvin Frost, CRG. "And, best of all, it will create a sustainable choice for FSEA members and others."
FSEA executive director Jeff Peterson says, "We are very excited to work with Calvin Frost and CRG on this project. We have been working to find alternatives to the landfill for foil waste for several years, and the partnership with CRG is a great start in this initiative."
This email address is being protected from spambots. You need JavaScript enabled to view it.