Published: November 09, 2017
GREEN BAY, WI | MPS Systems North America reports a successful and well-visited Flexo Innovation Open House. Nearly 150 people attended the event on October 26, organized by MPS, Green Bay Packaging, EMT, Kodak, Domino, and RotoControl.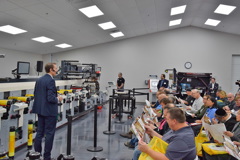 Visitors were transported to the new Technology and Applications Center of MPS and Green Bay Packaging, where MPS demonstrated the EF multi-substrate press. Jobs were printed with Kodak Flexcel NX plates and utilized Green Bay Packaging self-adhesive BOPP substrate. The company says the images in the first job demonstrated the ability to hold tonal range and flesh tones across a wide range 175 LPI to 600 LPI. The second print job highlighted the capability to print four colors UV flexo at 1,000 LPI.
The third job was printed on unsupported BOPP film, showing a unique "Motion Optics 3D lenticular" job where the EF held a 2.6-micron line with five colors in register at 656 fpm. Jeff Toepfler, design and prepress partner from Imageworx, said, "The exceptional quality and ultra-fine adjustment capabilities of the MPS EF press have allowed us to stretch the already formidable capabilities of flexography into the, before now, unachievable realms of security, lenticular, and exceptionally high line screen ruling print."
The EF press that was demonstrated is said to be a highly automated, user-friendly press that was locally built in Green Bay by manufacturing partner EMT. Also demonstrated during the Open House were the new RobustCut side-load die station of EMT and RotoControl's RSC 440 inspection/slitter/rewinder.
Kees Nijenhuis, VP of MPS North America, says, "Due to all the hard work of our local team and our partnerships with key suppliers, we were able to organize this impressive event. We would like to thank all visitors, partners, and tabletop suppliers for making this Open House an enormous success."
This email address is being protected from spambots. You need JavaScript enabled to view it.