Published: October 24, 2017
BEACON FALLS, CT | Goldenrod Corporation reports that WebCut Converting, of Eagan, MN, is a provider of contract slitting, laminating, and sheeting services to a wide variety of markets, recently expanded its operations by adding a new heat lamination line featuring Goldenrod lightweight pultrusion shafts and safety chucks.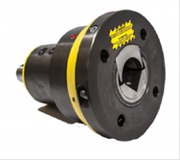 WebCut has been using Goldenrod Corporation's shafts and chucks on its converting lines for more than ten years, and reportedly the companies have come to rely on one another for their mutual reliability, product quality, and support. The converter says the use of Goldenrod's shafts and chucks has helped it through reliability and ease of maintenance. In the decade that they have been working together, WebCut has not had a single failure of a Goldenrod product, with very little maintenance necessary to prevent it.
"Knowing what you're going to get, day in and day out, is, to us, the most crucial thing about the shafts and chucks that we use on our machines," says Mark Olsen, WebCut's Technical Development. "Goldenrod's shafts and safety chucks have all the features we need, but their incredible reliability is the reason we have, and will continue to, trust them with our business."
While reliability is key, the shafts and chucks still have to get the job done right and provide excellent winding and unwinding capabilities. WebCut uses Goldenrod's Pultrusion shafts, and their extreme lightweight design allows for easy adjustment and maintenance, as well as less wear and tear on the laminator. Goldenrod's safety chucks are of similar high quality, and contribute as an easy to use way to increase both quality control and safety standards.
"Our patented pultrusion air shafts are the only carbon fiber multi-bladder shafts available in the industry," says David Sullivan, Goldenrod's VP of sales. "They provide all the advantages of the easy-to-maintain multi-bladder design with the stiffness and low inertia of carbon fiber. Also, our new safety chucks feature a machined steel closing ring—not cast—which is much more durable. They eliminate the premature wear and metal dusting issues common with typical cast safety chucks."
WebCut cites the customer support Goldenrod offers as the best feature the company offers. "We love their products and how they help our machines run at peak performance, absolutely," says Olsen. "The quality of support that we receive from Goldenrod is truly second to none, however, and with any long-term partner that is truly the most important thing for us at WebCut."
This email address is being protected from spambots. You need JavaScript enabled to view it.