Published: October 10, 2017
STUTTGART, GERMANY | At the Labelexpo show in Brussels, Flint Group showed a number of products, including the nyloprint WF SHARP water-washable, film-based plate for the high-end label market. It is said to improve quality with the highest line count for reproduction of finest details.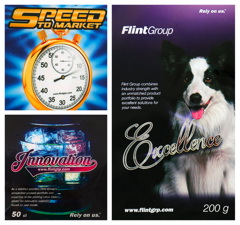 Company adds that it is easy to use due to the suitability of the plate for all types of processing equipment and the high flexibility of the polyester base, making it adapt well to different cylinders.
Friedrich von Rechteren, VP sales EMEA & Global Marketing of Flint Group Flexographic Products, says, "We leveraged our vast knowledge in the letterpress segment to develop the nyloprint WF SHARP plate. This plate is specifically designed for letterpress applications in the label market." The plate is scheduled to be released on the market in Q1/2018.
Flint also presented the patent-pending, state-of-the-art rotec Eco Bridge for easier and faster use in flexographic printing presses and on plate-mounting equipment. What is said to be an innovative and more efficient air supply system provides 99% reduction in noise and needs less compressed air.
Also showcased was the soon-to-be-released nyloflex XVH and nyloflex XFH plate.
This email address is being protected from spambots. You need JavaScript enabled to view it.