Published: October 13, 2017
GREEN BAY, WI | Rol-Tec has signed an agreement to purchase its second Kronos precision laser engraving system from SPGPrints. Rol-Tec purchased its first laser engraving system from SPGPrints in 2013. The new system will be built in Austria and installed at Rol-Tec's primary manufacturing facility in Green Bay near year's end.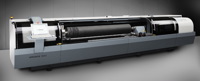 The company says the new Kronos will virtually double production capacity, add efficiencies and output capabilities, and help it meet growing demand for ITR (In-The-Round) flexo printing sleeves and cylinders.
Rol-Tec president Matt Umentum says, "We have been manufacturing rubber-covered rollers and fiberglass sleeves for the converting and printing industry for years. With the first Kronos direct laser engraving system, we became the only single source in the US for the complete system of mandrels, base sleeves, rubber covering, and laser engraving. This was a great advantage to our customers by reducing purchasing logistics and eliminating delays caused by shipping components between multiple suppliers."
Umentum says that both Kronos systems can engrave cylinders to 126 in. (320 cm) long and diameters from 2.7 in. (60 mm) to 15.7 in. (400 mm). "The first Kronos has the capacity to handle a 1,100 lb [500 kg] load weight, while the new unit has a load capacity of 2,200 lbs [,1000 kg]," he adds. The added weight capacity is significant for customers in the pattern engraving business, though flexographic print cylinders and sleeves don't typically weigh that much. It's also a reflection of the fact that these are both really robust and well-made machines. It's all part of our commitment to the industry."